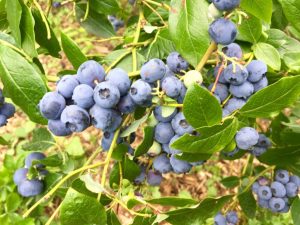 I started making blueberry jam a few years ago and handed a few pots out to family and friends. This has proved to be a bit of a double edged sword as the jam has become so popular, my production is having to increase yearly. Friends would start returning their pots in January, just incase I happen to be making some more… Despite some years being a bit of a hit and miss. (Sometimes the first batch would come out more like a blueberry soup than jam!)
Still I persevere in the quest for the perfect jam – not too sweet but packed with plenty of fruit and just about holds its shape on a spoon. It should also keep well for several months. Here are my top tips for making jam:
Invest in a good jam pan and thermometer. These are relatively inexpensive and will set you back about £20 (or you can often pick them up cheaper from a charity or bric-a-brac shop).
Always use dry, undamaged, barely ripe fruit.
Use granulated or preserving sugar.
Always use clean, warm and dry jam jars and never over fill the pots.
Always test for setting before potting.
I have quite a few blueberry bushes in the garden, each year tempting me into thinking that I was going to get a bumper crop, but as soon as the blueberries would begin to ripen, the birds would come along and scoff the lot. So early this year I took the bull by its horns and caged the whole lot in. Thankfully all my hard work has paid off and this year I am finally managing to enjoy the blueberries myself.
Although I usually make a large batch of jam in one go you can just as easily make a jar or two for a treat at weekends.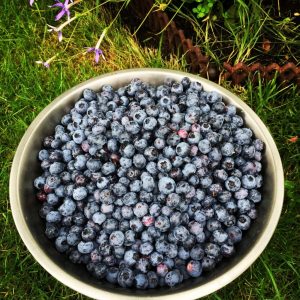 Blueberry jam
Difficulty: moderate                            Serving:12-14 pots
4kg   washed blueberries
3-3.2 kg granulated sugar
Place about 12-16 clean, heat resistance glass jam jars in a roasting pan half filled with boiling water in the oven for at 100C for 10 minutes to sterilise them.
Place the fruit in a large heavy based pan over medium heat, add the sugar and slowly bring to a rolling boil, stirring occasionally.
Add a knob of butter (this helps to reduce the amount of sticky scum that can form on the top of the jam). Boil for 3-15 minutes.  (I know that sounds rather imprecise but it depends on the ripeness of the fruit,the level of pectin in the fruit and the quantity you are making).
It is ready when the temperature reaches "jam" on your thermometer. Or (if you don't have a thermometer) you can do the crinkle test by placing a teaspoon of the hot jam on a cold plate (which has been put in the freezer for 5 minutes), chill it quickly for a minute or two then using your finger, push the jam gently and if it 'crinkles' then the jam is ready. Leave to cool slightly before pouring into jam jars.
Wipe the top of the jars with a warm damp cloth. The jam maybe covered immediately or left to cool. Place a small disc of wax paper on the top and seal with a lid. Store the jam in a cool dark place till needed. (Which in my family is usually straight away.)