I'm not a great fan of desserts (ahh the truth is out!)  as I don't particular have sweet tooth so I often skip the dessert and go onto the cheese. That being said, I do have a particular weakness for ice cream and sorbet. i don't really count them as pudding …just a little something sweet to finish off the meal!!
This has got to be one of the easiest and tastiest recipes that I have made this year. Fruit sorbets are very easy to make, as they are basically fruit puree and sugar. Some people like to add egg white to their sorbet but personally I prefer the texture without.
As this sorbet has alcohol in it, it also keeps very well. The texture remains slightly soft so you can eat it straight from the freezer.
Strawberry and vodka sorbet
Difficulty : Easy                                 Serves: 8-10
800g strawberries
4-6 spoons castor sugar
3 tbsp vodka or to taste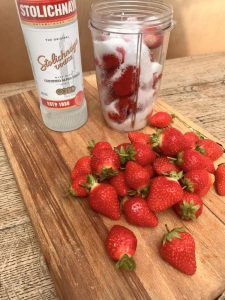 Wash and hull the strawberries then place in a blender and blitz till smooth. Add the sugar (about a third of the volume of purée) and the vodka and blitz again. Taste for sweetness and alcohol (don't add too much vodka or it will not freeze!). Pour into an ice cream make and free.
Serve with homemade  home made  riccciarlli ( Ricciarelli biscuits and Cherry blossom ) or Christmas Florentine Recipe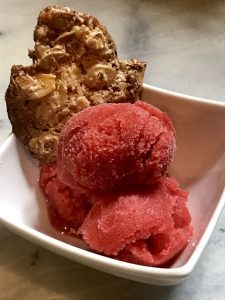 This works very well with raspberries too. though you must sieve the fruit puree before adding the vodka.