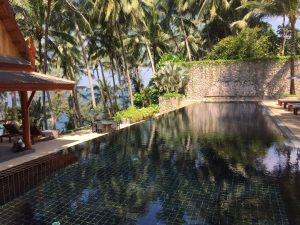 Usually when it's 30 degrees or more I crave a salad or something cool to munch on at lunch time, but the locals here in Phuket seem to desire other things. Our host who has been here for a month now has had enough of Thai food ( is that possible? I ask as I have become addicted to the hot and sour dishes of late). He popped by the 'Lady pie' shop to pick up a " nice steak and mushroom pie" made by the fabulous Aussie lady who now produces pies all over the island and even sends them as far as Bangkok! Not being an ex pat or local I didn't have the urge to munch on a pie ( though they did look rather good). However I have come to love their hot and sour soups which I know must sound rather odd to have at lunch when it's 30+degrees in the shade but actually they are rather satisfying despite the sweat perspiring from every pore(from the heat or the spice I am not too sure).
The tastiest and one of the most exotic Thai soups that I've had has got to be the duck and noodle soup with fresh greens. It is a complete meal unto itself. The delicate flavour of the stock combined with rich meaty duck and fresh pak choy is utterly sublime and well worth the effort.
For four people
1 duck
350g vermicelli rice noodles softened in hot water
100g enoki mushrooms
4 baby Pak choy blanched and halved
1tbsp chopped garlic chives
fish sauce light soya sauce and I lime
It is made by slow roasting a duck then remove the breasts and legs and keep warm. Place the carcass in a large pan of cold water and bring to the boil and a carrot,leek and onion and simmer for an hour and strain through a fine sieve to make a rich clear stock. add a little fish sauce and a splash of light soya sauce and a squeeze of lime to taste. Place the duck breasts in a pan skin side down and fry for a minute or two to crispen up the skin. Remove from the pan and keep warm.
To serve the soup, bring the stock to the boil then place a ladleful in four bowls. Arrange the noodles, mushrooms, Pak  choy and chives in each bowl. Slice the duck breasts and place 3-4 slices in each bowl. Serve with a little extra crispy duck on the side.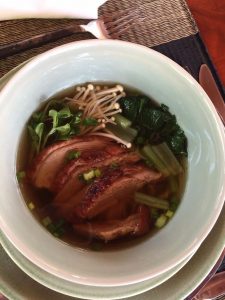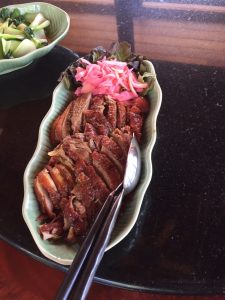 Served in these beautiful surroundings it has to be on of my best memories of Thailand.