This is a a very popular recipe from the South West of India, where the game is marinated twice to not only infuse a great depth of flavour, but also make the meat incredibly moist and tender too. I have made this using pheasant breasts, but you could use rabbit or partridge too.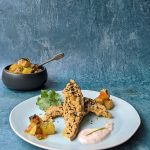 Ingredients
2 pheasant breast sliced in half lengthways
MARINADE 1
juice of a lemon
2 garlic cloves grated
2tbsp grated fresh ginger
1tsp salt
1/2tsp chilli powder
MARINADE 2
200g greek yogurt
3tbsp lime pickle
1 green chilli finely chopped 1
1/2 tsp fenugreek seeds ground
1tsp nigella seeds
1tbsp grated ginger
1/2tsp chilli powder
2tbsp sunflower/mustard oil
ROASTED PINEAPPLE SALAD
1 /2 pineapple peeled cored and cut into 2cm slices
2tbsp honey
1tsap castor sugar
1dsp chaat masala
4 spring onions finely chopped
1 green chilli finely chopped
PICKLED YOGURT DIP
200g Greek yogurt
1tsp sweet chilli pickle
Instructions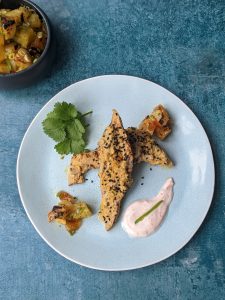 Mix all the ingredients for the first marinate in a bowl and add the pheasant breasts and rub well into the meat, cover and chill in the fridge for 30 minutes.
Mix all the ingredients for the second marinade together and add to the pheasant and leave to marinate for 4 hours or overnight in the fridge.
To prepare the pineapple salad , mix the honey pepper chaat masala and sugar together and coat the pineapple. leave for 20 minutes then place under a hot grill and grill for 5-6 minutes either side till golden brown on both sides. Dice the pineapple and add the chilli and onion and chill till needed.
Mix the yogurt and chilli pickle together for the dip.
Preheat the grill to the highest setting and grill the breasts for about 6-8 minutes either side till golden brown and just cooked. Serve warm with yogurt dip and the pineapple salad.