I love serving warm salads in winter. The wonderful mix of cool crisp leaves soft roast veggies salty halloumi finished off with juicy pomegranate seeds makes this salad an absolute winner. Ticking all those taste bud boxes!
The great advantage of this dish is that you can prepare a lot of the salad in advance. The roast vegetables can be cooked the day before and the pomegranate and nuts can be prepared also; so the only last minute cooking is the halloumi which is so easy to make if you are entertaining.
Radicchio is in season at the moment and comes in a variety of colours of red, pink and even cream with ruby flecks which is ever so pretty. If you cannot get radicchio you can use red or white chicory instead but I do love the slight bitter taste that the radicchio adds to the dish.
When cooking halloumi take care not to over cook it or it can become rubbery. It just needs to flashfried/grilled.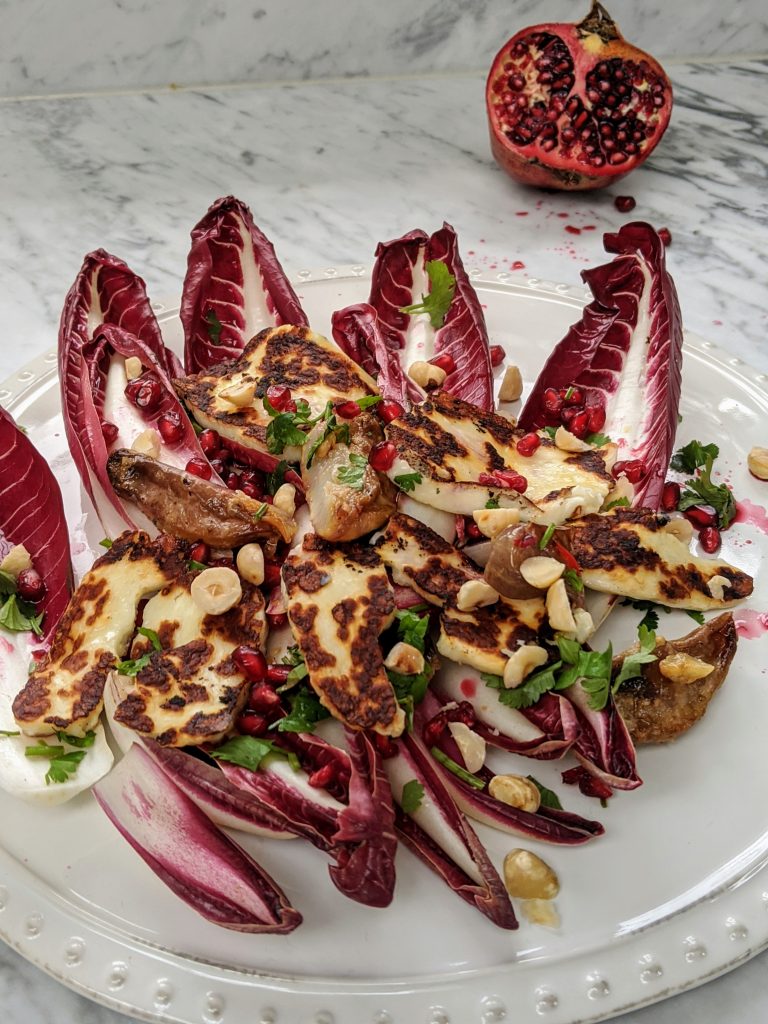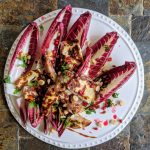 Ingredients
1 large head of chicory

2 red onions

8 fat jerusalem artichokes

2 garlic cloves crushed

1 pkt halloumi

25g whole hazelnuts

1 pomegranate

4tbsp olive oil

1 tbsp pomegranate molasses

seas salt and freshly ground black pepper
Instructions
Preheat the oven to 200C.
Peel the onions and artichokes and cut into quarters. Toss in 2tbsp of the olive oil and garlic and season with salt and pepper. Place in the top of the oven and roast for 15 minutes and then turn over and return to the oven for another 10-15 minutes until the vegetable are soft and sticky. Remove from the oven.
Whilst the vegetables are cooking, toast the hazelnuts in a dry frying pan till they start to colour. (about 2-3 minutes but keep and eye on them as they can burn easily). When toasted, remove from the heat and leave to cool then coarsely chop and reserve.
Cut the pomegranate in half and using a rolling pin bash out the seeds into a bowl.
Wash the radicchio and arrange on a large platter.
Just before you are ready to serve, place a large frying pan on the heat. Slice the halloumi and carefully drizzle over a tablespoon of olive oil. Cook the halloumi in the pan for about a minute till it starts to colour. Flip over and cook for another 30 or so seconds then remove from the heat.
To assemble the salad, place the roast artichokes and onions on the radicchio, add the halloumi and sprinkle over the pomegranate seeds and chopped hazelnuts then drizzle over the remaining tablespoon of oil and a little pomegranate molasses. Serve whilst its still warm.