This is a wonderful recipe which can be served as part of a mezze platter or makes a delicious vegetarian lunch or side; and if you fancy to add a bit more pizazz, why not sprinkle over a few toasted nuts or seeds with some fresh coriander.
I like to serve mine with the vegetables still slightly warm, but if you are making this in advance its best served at room temperature rather than fridge cold.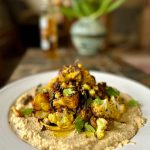 Ingredients
1 medium cauliflower cut into florets and reserve the leaves
3 onions cut into quarters and broken into 'petals' / segments
1tbsp ground turmeric
1tbsp coriander seeds
2tsp cumin seeds
2tbsp golden linseed oil or light olive oil
1tbsp pomegranate molasses
sea salt and freshly ground black pepper
HUMMUS
1 can chickpeas rinsed and drained
juice of a lemon
1 clove garlic crushed
1 tbsp sesame oil
olive oil
sea salt and freshly ground black pepper
Instructions
Preheat the oven to 200C.
Place the cauliflower florets and leaves with the onion petals on a large roasting pan and sprinkle over the spices. drizzle over the oil and mix well and season well with sea salt and pepper.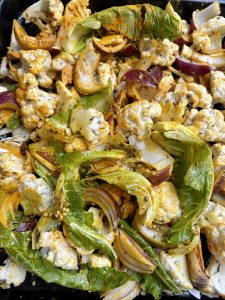 Roast in the top of the oven for 15-20 minutes till the cauliflower is just cooked and the onions are soft. Then remove from the oven and leave to cool slightly.

Whilst the vegetables are cooking make the hummus by blitzing the drained chickpeas, lemon juice, garlic and tahini together with a little oil till smooth.

Season with salt and pepper then spread on a large plate. Pile on the roast vegetables and drizzle over a little more golden linseed or olive oil and a little pomegranate molasses and serve with toasted sourdough.