My mother was rather a modest cook but one thing that she really did excel at was in the cooking of game. Jugged hair, partridge with cream and mushrooms, pheasant pie and the best roast grouse with game chips you've ever tasted… served on the most delicious crisp, yet just a bit soggy bread cos of all those lovely gamey juices… I'm starting to feel hungry just thinking about it!
It's funny, but us townies ( but I'm still a country girl at heart), definitely don't  appreciate the wonderful merits of game. Rich in protein, low in fat and if sourced from a rough shoot, most definitely organic! I think it should be up there with some of the so called 'super foods'. Also when you buy in season its usually very cheap.
A little tip when you buy pheasants;  the hen pheasant is a bit smaller and cheaper than the cock pheasant. I bought one the other day for £3.0 and that should feed 2 people generously and if you're making a pie you could stretch that to 4 so it's pretty economical.
Pot roast pheasant with apples and calvados
Difficulty: Easy/moderate                         Serves 4
2 pheasants
4 rashers of smoked streaky bacon cut into lardons/or one small tub of lardons/pancetta
1 tbsp light olive oil
2 large apples peeled and cut into 1/12ths (of an apple)
1/4 head of celery finely chopped
A few sprigs of thyme and rosemary
2-3tbsp double cream
1 glass of white wine
2-3 tbsp calvados (a large slug)
1/2 litre of pheasant or chicken stock
sea salt and freshly ground black pepper
*To make a cartouche: cut a circle of greaseproof paper about 2cm larger than the size of your pan.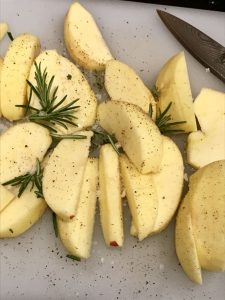 Heat the oil in a large heavy based sauce pan. Add the pheasants, season with a little sea salt and black pepper and brown over a high heat for 2-3 minutes then turn over and brown for another 2-3 minutes on the other side.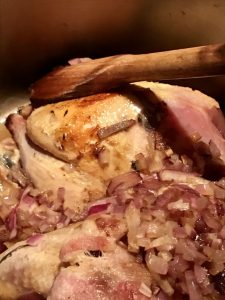 Remove the pheasants and add the bacon and celery and cook for 3-4 minutes until the celery begins to soften and the bacon begins to crispen. Return the pheasants to the pan breast side down and pour over the wine and the stock.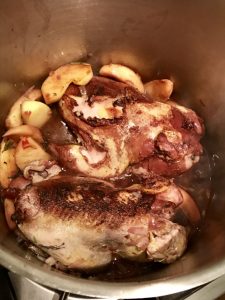 Add the apples and herbs then cover the pheasant with a cartouche*. Place the lid on top of the pan. Bring the stock to a boil then immediately turn down the heat to a low simmer and cook for about 30-40 minutes. When the pheasant is cooked. (To check prick the leg with a skewer and the juices should run clear). Remove the birds and place on a large plate and keep warm. Take a slotted spoon and scoop out the apples and celery and add to the pheasants.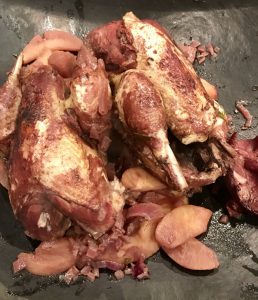 Turn up the heat and pour in the calvados and reduce the sauce by a third. Pour in the cream and cook for another 2-3 of minutes.  Then pour over the pheasants and serve with roast sweet potatoes.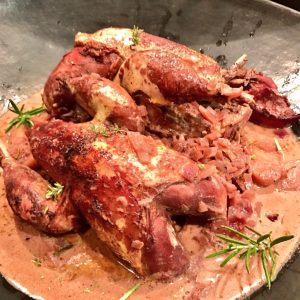 For a healthier option you can omit the calvados and cream!