My local farm shop @secrettsmilford recently asked me for a fish supper recipe, which uses some of their gorgeous seasonal veg. So what could be better than a creamy celeriac puree combined with some crispy kale.
For this recipe I have used cod, but it works just as well with haddock, hake or pollack. For the breadcrumbs, I like to use stale ciabatta and leave the crumbs still a little coarse. This gives the topping a lovely crunchy texture which works really well with the soft fish below.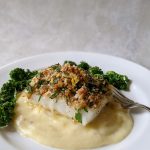 Ingredients
4 fillets of cod about 3cm thick
1 celeriac
50 ml single cream
2 large handfuls of curly kale stalks removed
1 cup stale bread crumbs
zest of a lemon
2 tbsp chopped parsley
1 tbsp lemon oil
1tbsp olive oil
sea salt and freshly ground black pepper
Instructions
Preheat the oven to 180C.
To make the puree, peel and cut the celeriac into cubes and boil for about 25 minutes until soft, drain, and place in a blender with the cream and blitz until smooth. Season with salt and pepper and keep warm.
Mix the breadcrumbs with the lemon zest, parsley and lemon oil, season with a little salt and pepper. Place a quarter of the crumb mixture on top of each cod fillet and press down firmly.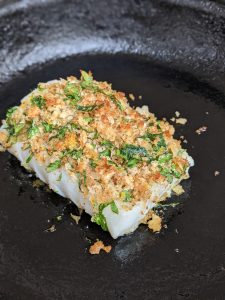 Place the fillets on a baking tray and bake in the oven for 8-10 minutes till breadcrumbs are golden brown and the fish is cooked (the cooking time may vary a little depending on the thickness of the fish).
Whilst the fish is cooking, put the kale in a bowl with the olive oil and a little salt and pepper and massage together. Place the kale in a large frying pan and quickly sauté till crisp.
To serve, place a large spoonful of the puree onto for plates and top with the cooked fish, add the cooked crispy kale on the side.