I was reminiscing over a trip I had to Corfu several years ago; diving off the white rocks into the crystal clear water, hiking up into the hills spotting rare orchids, beautiful blue skies everyday….but the best memory of all, was a deliciously moist honey and walnut cake. So rich and gooey and oozing honey, it really was something quite special.
I've tasted many different versions of this cake, some containing butter, which are rich and moist, some with spices, others are a little bit citrusy but my favourite of all is made with olive oil. This makes a much lighter and springier cake but is still beautifully moist, especially once the honey syrup is drizzled all over.
For my honey and walnut cake, I have stuck to quite a classic recipe (with the odd tweak or two). As you've probably guessed it's oil based, so is dairy free. Which is good for those who are lactose intolerant out there. It's very easy to make and keeps well; only if you can resist eating eat!
Dairy free honey and walnut cake
Difficulty: Easy                                         Serves: 8-10
1/2 cup whole milk
1/2 cup light olive oil
3 eggs
2 tbsp runny honey
1/4  cup castor sugar
1 cup all purpose flour
2 tsp baking powder
1/2 tsp bicarbonate of soda
1 tsp ground cinnamon
1/2 tsp ground cloves
1 cup coarsely ground walnuts mixed with 2 tsp  flour**
Honey Syrup
1 cups sugar
1/2 cup honey*
2 cups water
1 cinnamon stick
2 whole cloves
Topping
3/4cup ground walnuts mixed with a pinch of cinnamon.
Preheat the oven to 170C degrees. Grease a 22.5cm/9″ loose bottom round cake tin.
*Tip: If you measure your honey just after you have measured the oil , it makes the honey slide out of the measuring cup much easier.
**Tip: Mixing the a little flour and walnuts together stops the walnuts from sinking to the bottom of the cake.
Beat the eggs and sugar together for a few minutes until pale and thick. Stir in the olive oil, milk and honey and beat well.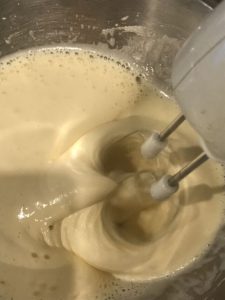 Sieve the dry ingredients (except the walnut and flour combo) together into a bowl. Using a large metal spoon, carefully fold this into the batter. Taking care not to over mix. Now fold in the walnut and flour combo and pour into the prepared cake tin. Bake in the middle of the oven for about 35-40 minutes, ( until when pricked with a toothpick it comes out clean).
Whilst the cake is baking, make the honey syrup. Mix all of the ingredients into a saucepan and bring to the boil. Boil for  5 minutes over a medium heat until slightly thickened. Remove from the heat and leave to cool. Take out the cloves and cinnamon stick.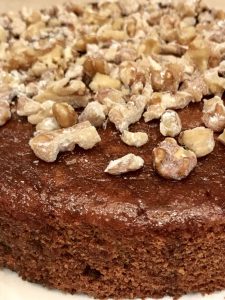 As soon as the cake is baked, carefully remove the cake from the tin and place on a wire rack. Prick all over with a toothpick then slowly pour over the syrup, brushing a little of the syrup down the sides. (It is important to do this slowly so that all the syrup is absorbed thoroughly into the cake), Sprinkle over the crushed walnuts and cinnamon. Serve warm with a large scoop of ice cream. Or if there is any left it is delicious with a nice cup of tea the next day.