I'd never seen or cooked with celtuce before my local farm shop https://www.secretts.co.uk/ gave me some celtuce to experiment with. This wonderfully weird vegetable is more commonly found in Chinese cuisine where it is often sautéed in oyster sauce or stir fried with garlic, sesame and soy sauce. However it can also be equally delicious when served raw giving it a more mediterranean twist with some good olive oil and lemon. It's mild, slightly nutty flavour tastes a bit like a water chesnut, making it into a lovely fresh and crunchy salad.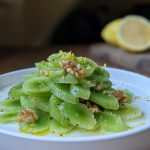 Ingredients
2-3 celtuce sticks
1 lemon
1 handful of walnuts chopped
olive oil
sea salt and freshly ground black pepper
Instructions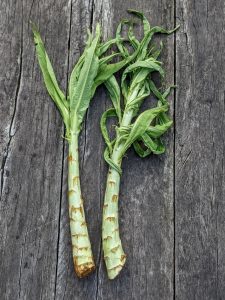 First start by stripping off the leaves at the top as they can be quite bitter. Then using a vegetable peeler or sharp knife, peel the stems ( rather like you would with do with woody asparagus).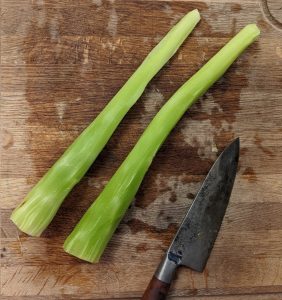 Slice the stems on a diagonal and place in a bowl with the zest and juice of half a lemon. Drizzle over some good quality olive oil and season well with salt and plenty of black pepper. Sprinkle over the chopped walnuts and grate the zest of the half lemon over the top.