A few years ago I was staying with a girlfriend in Palma and she produced a pot of sweet chilli jam to go with the cheese. This radiant red jam was deliciously sweet n' sticky and had a wonderful chilli tang at the end. A perfect match to the soft creamy goats cheese and crackers… I've been addicted to it ever since.
The jam is made from red chillies and peppers combined with ginger, garlic and Thai fish sauce to give it that subtle Asian twist. You can make it as hot or as mild as you like so the type and number of chillies used is up to you. I like a bit of heat in my sauce so about 12 small birds eye chillies are plenty but always remember to taste a little bit of chilli first because they can vary enormously in heat.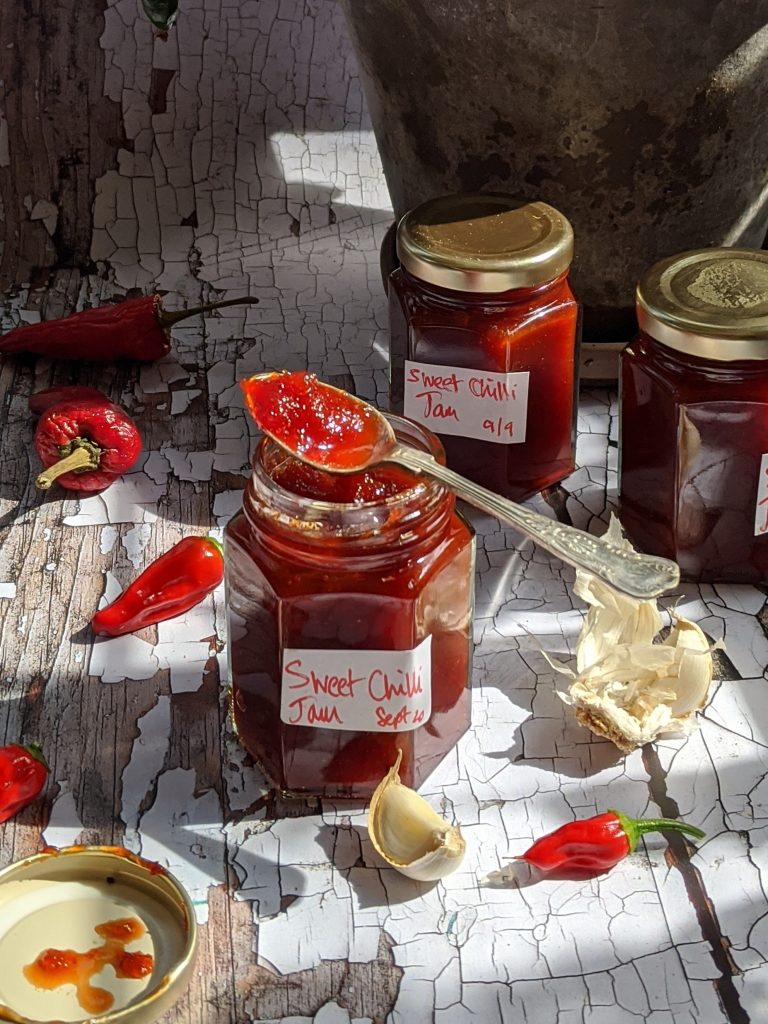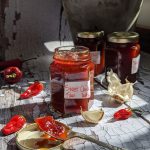 Ingredients
3 red peppers deseeded
12-15 birds eye chillis
2 tbsp grated ginger 6 cloves garlic crushed
100ml red wine vinegar
2 tbsp fish sauce
300g granulated sugar
100ml water
Instructions
Place the peppers, chilli, garlic and ginger in a blender/ nutribullet and blitz till not quite smooth. Pour the chilli mixture into a pan and add the sugar fish sauce red wine vinegar and water. Place over a medium heat and bring to the boil stirring until all the sugar has dissolved. Cook for about 15-20 minutes until the mix coats the back of a spoon and is jam like. I like the jam to be quite runny but if you prefer it thicker boil for a little longer. love to cool for a few minutes before decanting in 4 small sterilised glass jars.*

*To sterilise the jars place the clean dry jars upright in a roasting tray half filled with boiling water and heat in the oven at 100C for at 5-10 minutes.