My lovely friend Gina gave me this wonderful recipe a few years ago which I have made every autumn after the chilli harvest. Although I have tweaked it just a little bit I really have her to thank for this fabulously simple recipe.
Sweet chilli sauce is one of those sauces which can pimp up any dish. Drizzle a little over cucumber slices for a great pre dinner snack or as a side for crab cakes or tandoori chicken. I even use it as an alternative to pickle in a cheese sandwich.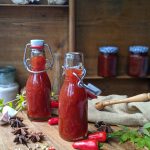 Ingredients
16 small red chillies
2 red peppers
6 cloves garlic crushed
2tbsp freshly grated ginger
15ml fish sauce
100ml red wine vinegar
300g granulated sugar
2 cups of water
Instructions
 Cut the peppers in half and remove the seeds. Coarsely chop. remove the stalks from the chillis and place in a blender with the garlic, ginger and  peppers and blitz till finely chopped.  Place the chilli mixture in a pan with the remaining ingredients and bring to the boil. Simmer the sauce for about 45 minutes until thick. ( It should coat the back of a spoon). Leave to cool for 10 minutes before decanting it into bottles or jars.