The hedgerows are abundantly verdant right now so it's one of the best times to go foraging for tasty young leaves. Dandelions, wild garlic and chickweed are all delicious in salads but one of my favourite leaves are from the nettle.
Some people consider nettles to be a super food as they are packed with iron and rich in vitamins A and D and minerals. Of course you need to take care when picking them, I find a good pair of Marigold rubber gloves are perfect. Once picked you are in for a treat as they make fantastic soup, tea, ravioli and gnocchi as for this recipe. Just make sure that you pick the younger leaves which have the best flavour.
Traditionally gnocchi is made with potatoes, but I have used ricotta instead as I find they make a much lighter version. You may also substitute polenta flour for plain flour to make them gluten free.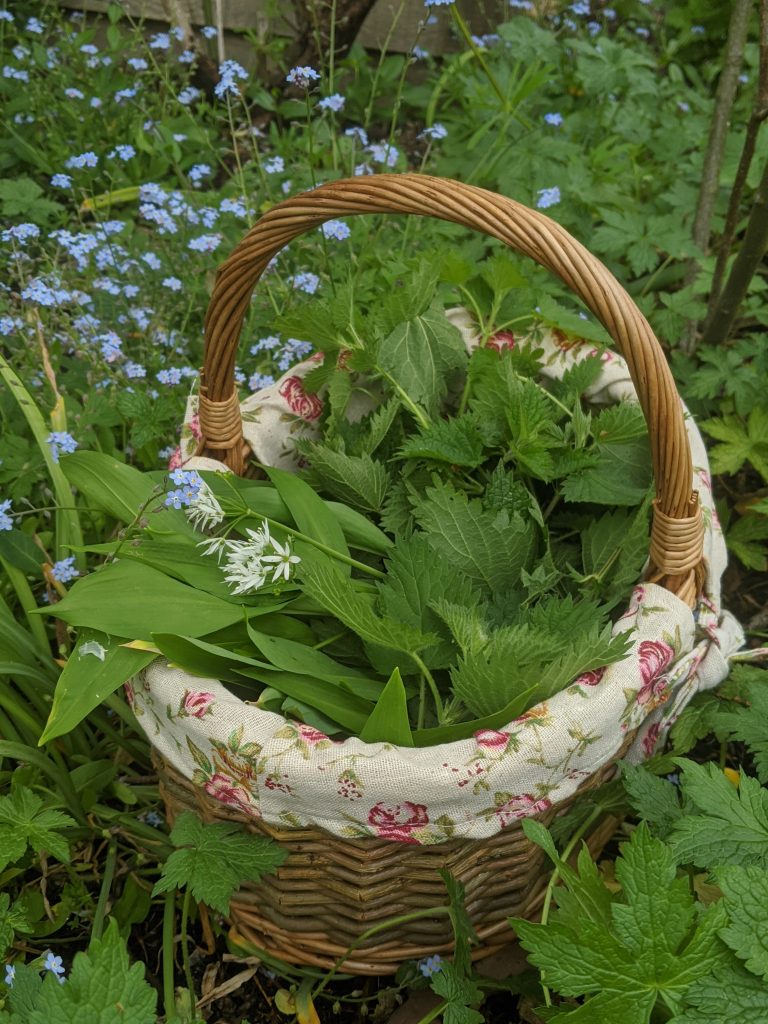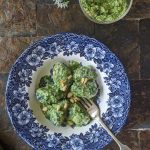 Ingredients
400g of young nettles stalks removed
2 small egg yolks
1 small onion
20g butter
60 g plain flour
220g ricotta
a little freshly ground nutmeg
80g freshly grated parmesan
sea salt and freshly ground black pepper
Wild garlic pesto
30g fresh wild garlic leaves
80g pinenuts
2tbsp grated parmesan
2tbsp olive oil
1 tbsp cold water
freshly ground black pepper
a little cold water
Instructions
Finely chop the onion and sweat in the butter with a pinch of salt for 5 minutes till soft. Leave to cool. Place leaves in a pan of boiling water and blanche for 3 minutes then refresh in cold water. Squeeze out all excess moisture and chop well (this may be done in a whizzer/ nutribullet if you prefer).
Place in a bowland add the onions and remaining ingredients for the gnocchi. Season with salt and pepper.
Take a teaspoonful of the mixture and gently roll together into a ball then carefully squish down to form the shape of and eye.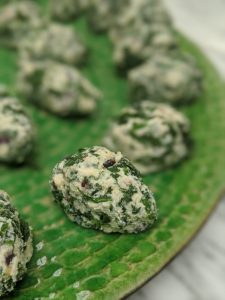 Place the gnocchi on a large plate and repeat the process till all the mixture is used. Chill in the fridge for at least an hour.
Whilst the gnocchi is chilling, make the wild garlic pesto. lightly toast the pine nuts in a pan till they start to colour. Cool then pace on a chopper/ nutribullet with all the other ingredients. Quickly blitz together. I like to leave my pesto quite chunky but if you prefer it smoother blitz a little more. Check for seasoning and reserve.
When you are ready to cook. Place a large pan of salted water onto boil. As soon as it is boiling cook the gnocchi in batches of ten for about 2-3 minutes or until they rise to the surface. Remove the cooked gnocchi with a slotted spoon and place in a large frying pan whilst you cook the rest of the gnocchi (you might need to do this in 3 or 4 batches).
Once all the gnocchi are cooked add 2 heaped tablespoons of the pesto to the frying pan and 'loosen ' with a little of the gnocchi water. You just need enough to be able to coat all the gnocchi in the pesto.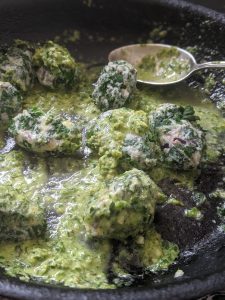 Devide the gnocchi between 4 bowls and serve with a little extra parmesan.