This is one of my families favourite desserts. Delicious summer berries piled on top of creamy white chocolate and yogurt, it really has the WOW factor and is so simple to make. It really is a winner.
You can use any berries that you wish and the amounts that I have given are only a rough guide so why not splurge on what you fancy and sub away too. In late summer I also like to make this using figs, peaches or nectarines and in autumn roast plums and other roast stone fruit are fabulous too.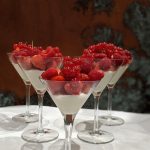 Ingredients
200g white chocolate
500g unsweetened natural yogurt
150 g blueberries
150g raspberries
200g strawberries
150g red currants
Notes
Break the chocolate up into a bowl and place in a bowl over simmering water and leave to melt. Stir in the yogurt and pour onto a pretty plate or into 6 pretty bowls. Leave to set in the fridge before topping with the berries and serve.