One of the tips I like to pass on in my cookery classes, is that it's ok to cheat a little. When having friends round and entertaining, the most important thing is actually to be with them and not spend all your time hidden away in the kitchen slaving over a hot stove. So don't over complicate things, and choose recipes that you can make in advance and only need a little tweaking at the end. This trifle is perfect for this as it is actually better when made the day before which gives time for the sponge to soak up all the lovely boozy fruity flavours. The only thing you need to do on the day is whip the cream and slice a few strawberries for the top.
So for my cheats trifle I use shop bought sponge fingers and custard,. I prefer the fresh vanilla custard that you can get from most supermarkets, but tinned will suffice. The only cooking involved is making a rhubarb compote and whipping the cream so it's very quick and easy to make. I use Pedro Ximenez sherry which is a wonderful rich dark dessert sherry from Jerez in Spain but any sweet sherry (or liqueur of you choice will do). I like to serve it in a large glass bowl so you can see the lovely layers, but you can also make individual trifles in pretty glass bowls or wine glasses too.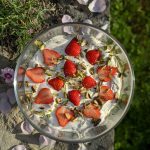 Ingredients
1 pkt of sponge fingers
1-2 tbsp sweet sherry
1 punnet of strawberries (400g)
400g rhubarb
2-3 tbsp sugar (depending how sweet you like your compote)
1 large pot of shop fresh vanilla custard
300ml double or whipping cream
Instructions
First make the rhubarb compote. Slice the rhubarb into 2cm pieces and place in the pan with 1-2 heaped tablespoons of sugar( depending on your sweet tooth). Cook over a gentle heat until the rhubarb is soft. test for sweetness adding a little more sugar if desired. leave to cool.
Place the sponge fingers in the base of the bowl and a few up the sides. You probably won't need the whole packet. Drizzle over the sherry and add the cooled compote. Slice the strawberries reserving a few to place on top of the cream later. Place the sliced strawberries on top of the compote and pour over the custard. You may chill the trifle at this point for 24 hours or carry onto the next stage.
Whip the cream and spread over the custard and sprinkle over the rest of the strawberries.