I was home alone so went foraging in the garden to see what I could find for supper. With this warm  weather the vegetable patch has sprouted.  A veritable verdure to behold! The first asparagus tips poking their heads through like little soldiers lined up to attention. Huge mounds of parsley,rocket and chives spilling over and the pungent aroma of wild garlic in the air. I was spoilt for choice. Dinner for one was looking good!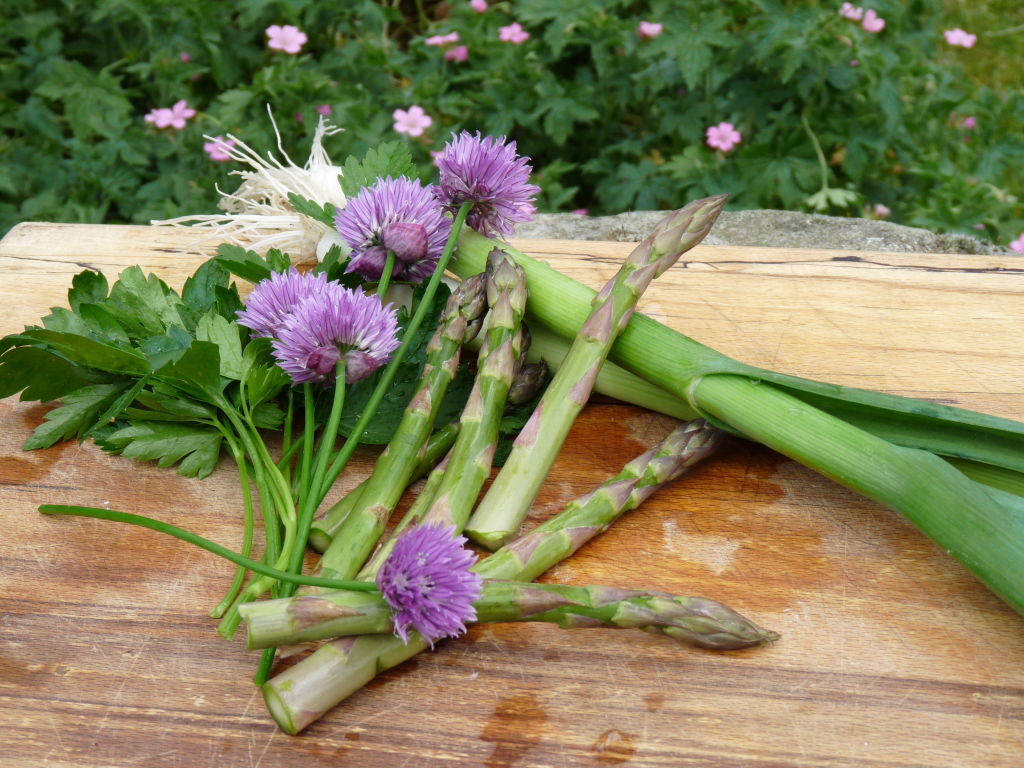 So with asparagus, leeks and a big bunch of parsley and basil, I had all I needed for a risotto verde.
For one person
2    leeks washed and finely chopped
A    handful of asparagus spears (about 7-8) cut off the tips and chop the stalks
A    bunch of parsley washed and blitzed with a handful of basil
1-2 handfuls of arborio or carnoroli  (risotto)rice
About a cup of hot vegetable or chicken stock
1/4 glass dry vermouth or white wine
1tbs grated Parmesan  and a little extra for grating
Cook the leeks in a knob of butter over a gentle heat for about the 5-10 minutes until the leeks are soft. Add the rice and stir  well for about a minute then add the white wine. Let it reduce to a syrup before adding  half of the hot stock and keep stirring. Cook for 10 minutes then add the asparagus tips and chopped stalks and more stock when necessary. Keep stirring and carry on cooking for about 5-8 minutes until all the liquid has been absorbed and the rice is  just cooked. Remove from the heat and stir in the blitzed herbs and the Parmesan.
Serve with a little extra grated Parmesan on top.
Tip: If the asparagus spears are very fat, slice the tips lengthways so that they will cook in the same amount of time as the stalks.