A friend of mine made some delicious seed crackers before Christmas and she kindly gave me her recipe which she had slightly adapted from Kate Barnes. http://www.katebarnes.com.au/recipe/simple-crunchy-seed-crackers/
These delicious crackers are made just from seeds, a few herbs a little salt and Psyllium husk and water. The psyllium husk acts as a binding agent and is a great source of fibre so is really good for your gut. It can be easily bought from Holland & Barrett or on line. You will need to use the Powdered version.
I have now tweaked the recipe a little more and come up with what I think a really tasty cracker which I'm now totally addicted too. They are incredibly easy to make and you to can tweak them to your own perfect taste too.
Gluten free seed crackers
Difficulty: Easy                                Makes : 40-50 crackers
200g sunflower seeds
100g sesame seeds
50 g chai seeds
80g pumpkin seeds
50g linseed/flaxseed
2tsp turmeric
1tsp ground corriander
2tsp ground cumin
2 tbsp chopped herbs or finely chopped kale
2tbsp purified/powdered Psyllium husk
juice of a lemon
450-500ml water
1tsp sea salt
Pre heat the oven to 145C.
Line 2 large baking trays with baking parchment. Mix all the ingredients together and leave to sit for 10 minutes to thicken. Place half the mixture onto each baking sheet then using slightly wet hands spread the mixture as thin as possible to cover the whole sheet.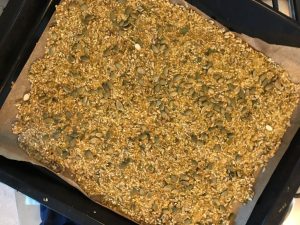 Bake in the oven for an hour to an hour and a half until the mixture is completely dry and crisp (without colour).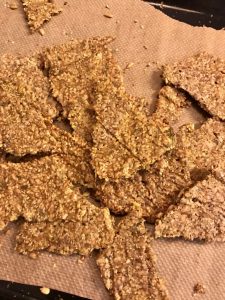 Little tip; If the mixture is spread a little thick it will take longer to dry out and you may find it easier to flip the mixture onto another piece of baking parchment over after an hour so that the underside dries out.
When cooked leave to cool before breaking it into pieces and storing in an air tight container.