I have been rather remiss lately in posting having been preoccupied with builders and relatives but I'm back now and aim to kick off the New Year with lots of tasty new recipes for you.
I don't know about you but post Christmas I always feel a bit 'meat heavy' and rather than do 'dry January' I prefer to do an 'almost meat free January' to give my body a chance to rebalance.
Ribollita soup is perfect for those cold winter days really tasty and leaves you feeling satiated not stuffed! Traditionally it is made with leftover stale bread, cannellini beans and vegetables and is rather a hearty soup but my version omits the bread and uses butter beans instead of cannellini beans making a much lighter soup. I like to dice the vegetables quite finely (about 0.5cm) but you can leave the vegetables chunkier if you like your soup to be heartier.
Ribollita with butter beans and walnut and parsley pesto (gluten free)
Difficulty: Easy Serves: 4-6
2 onions
3-4 carrots
2 leeks
4 sticks celery
3 cloves garlic crushed
1/2tsp chilli flakes
3 handfuls baby spinach leaves
1litre good vegetable or chicken stock
2x400g can chopped tomatoes
820g jar of butter beans (or 2 x400g tins)
2tbsp olive oil
a pinch of smoked paprika
2 sprigs of rosemary and 1 bay leaf
sea salt and freshly ground black pepper
Walnut and parsley pesto
40g walnuts
1 bunch flat leaf parsley
1 clove garlic crushed
2 tbsp olive oil
Peel and dice the onions, leeks and carrots and place in a large pan with the olive oil. Place the pan over a medium heat. Dice the celery (the same size as the onions) and add to the pan with a pinch of salt and the paprika. Cook the vegetables over a medium heat for about 5 minutes until they begin to soften (but not colour). Pour over the stock and add the tomatoes herbs and chilli, stir well. Bring to the boil then turn down to a gentle simmer and cook for about 15 minutes.
Whilst the soup is cooking make the pesto. Remove the stalks from the parsley and coarsely chop, add the garlic and walnuts and chop again (you can do this in a blender if you prefer but be careful not to over blitz I like the pesto to be a little coarse). Add the olive oil and season with salt pepper to taste. reserve till needed.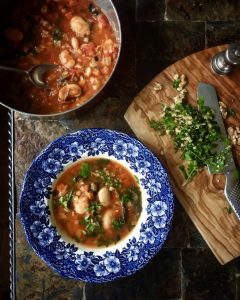 After simmering the soup for 15 minutes, add the beans and cook for another 10 minutes then add the spinach and cook for a further 4-5 minutes so that the spinach is just cooked but still retains its colour. Season the soup with salt and pepper and serve in bowls with a generous dollop of pesto and some crusty bread on the side.