I love a good stir fry, particularly when I have been working all day, and just want to whip up something quick and easy for supper.
Stir fry is an excellent way of using up leftovers… Sunday roast, remnants from the barbecue and of course whatever leftover vegetables you have lurking in the fridge, (with the exception of salad which tends to go rather soggy!) All these can be quickly turned into a delicious meal.
You can make your own black bean sauce if you have time, (see How to Make… Black Bean Sauce – James's Recipes ). However there are some good ready made sauces available if you are in a hurry; just try and check that they are low in sugar and salt.
For this recipe I have used prawns, but you could always use chicken, beef or pork or stick to just vegetables if you prefer. You do not need to use the exact vegetables that I have used in this recipe, but try and use vegetables which have different textures and flavours; remember the cooking time is supposed to be quick, so the vegetable retain some of their crunch.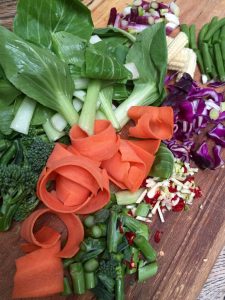 Super quick prawn and veggie stir fry with sesame and black bean sauce recipe
Difficulty: Easy Serves:2
8 large raw prawns peeled and deveined
1/2 small red chilli finely chopped
1 clove garlic crushed
200g tender stem broccoli cut into 5cm pieces
1 carrot peeled into ribbons using a vegetable peeler
4 spring onions chopped
1 handful of French beans cut in half
3-4 baby sweetcorn halved lengthways
1 pak choi roughly chopped
40g chopped red or white cabbage
1tbsp sesame seeds
2tbsp black bean sauce
1tbsp light olive or sunflower oil
Heat the wok with 1/2 tbsp of the oil until it starts to smoke then quickly fry the prawns for 1-2 of minutes either side until they stop being translucent and turn pink. Remove from the pan and keep warm.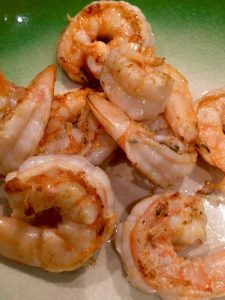 Add the remainder 1/2 tbsp oil to the pan and fry the garlic and chilli for 30 seconds then add the broccoli and beans and fry for a minute then add 1tbsp of water and cook for another for another 2-3 minutes until the water has evaporated.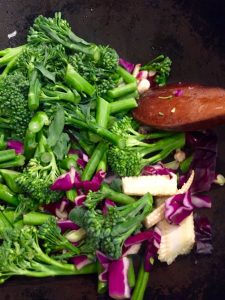 Add the remaining vegetables and sesame seeds and fry for 2-3 minutes until the pak choi leaves begin to wilt. Return the prawns to the wok and stir in the black bean sauce. Mix well over a high for about a minute or two and then serve immediately.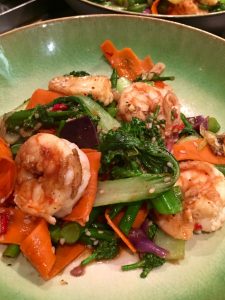 For a more substantial meal you may add some cooked egg or rice noodles.