Quite often its the little things in life which can make a huge difference to you. I was feeling a little low the other day when a girlfriend of mine popped over a gave me a little bag of delicious scorched almonds from Rococo Chocolates. This wonderful little bag of goodies, put a smile on my face, and completely washed my blues away. Pretty corny  I know but it really did. In fact after after munching through the entire packet over the weekend, I decided that they were so good that I would try and make my own version.
When making this recipe it's very important to toast the blanched almonds first, so that the nuts remain crisp. (If not  they will become chewy). Alternately you can buy ready toasted almonds from Spanish delicatessens which are superb.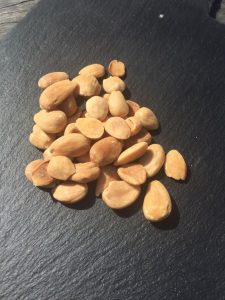 Scorched Chocolate Coated caramel Almonds recipe
Difficulty: Moderate                                 Serves: 2 gift bags full!
100g blanched almonds
100g dark 70% chocolate
40g castor sugar
2tbsp water
2tbsp cocoa powder for dusting
Preheat the oven to 160C.
Place the almonds on a baking tray and bake in the oven for about 5-7 minutes till golden brown. (It is a good idea to set a timer for this as they are easily burnt!) Remove from the oven and leave to cool.
Place the sugar and water in a heavy based pan and bring to the boil. Do not stir, be patient the sugar will dissolve, bubble up then begin to colour. When the sugar turns a golden brown, remove from the heat and gently swirl the pan so that it is all an even colour. Add the toasted almonds, quickly stir and pour onto a lightly oiled baking sheet. Spread the almonds so that they are in a single layer over the tray and leave to cool.
Break up the chocolate into small pieces and place in a bowl over simmering water and leave to melt. Whilst the chocolate is melting, separate the nuts into individual almonds. As soon as the chocolate is melted, remove the bowl from the heat and leave to cool slightly before pouring over the nuts. Toss the nuts in the chocolate so they are completely coated, then leave to cool.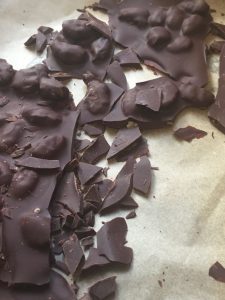 When the chocolate nuts are completely cool, break them up again into individual almonds. Place the cocoa on a saucer and dust the nuts in the cocoa.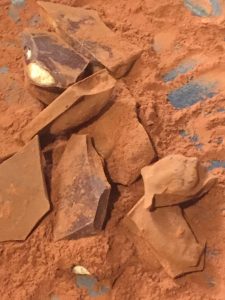 Remove from the saucer and store in a sealed jars, cellophane packets or little gift boxes lined in tissue paper.