At this time of year there aren't many vegetables around to get excited about, but there is one that I always look forward to when the season starts and that is radicchio.
Radicchio is a cultivar of chicory leaf, sometimes known as Italian chicory. It usually has deep purple leaves with white veins running through and has a slightly bitter (but very pleasant) taste. One of the prettiest radicchio's  is the pale pink radicchio whose head is so beautiful it looks like a large peony. Their leaves will brighten up any winter salad.
This salad is very quick and easy to make it is delicious on it's own or served with some antipasta or grilled meats.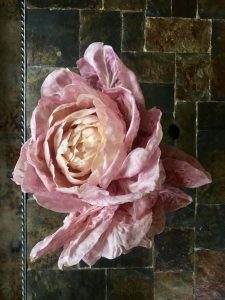 Pink radicchio pear and pomegranate salad with mustard dressing
Difficulty: Easy                                          Serves: 3-4
1-2 heads of radicchio
2 large ripe comice pears
1 pomegranate
1tbsp grainy mustard
1tsp clear runny honey
1tbsp olive oil
2tsp cider vinegar
sea salt and freshly ground black pepper
Make the dressing by mixing the mustard with the vinegar and oil.
Peel, core and thinly slice the pears and place in a large bowl. Carefully peel the leaves of the radicchio and add to the salad. Cut the pomegranate in half and using a rolling pin or the back of a wooden spoon, bash out the seeds and add to the salad. Pour over the mustard dressing and season with salt and pepper. Toss well and serve immediately.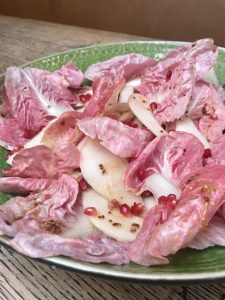 For a more substantial salad why not add some shavings of Pecorino cheese or crumble over a little Roquefort