I came across this fabulous salad quite by accident last week when I was trying to use some of the leftovers lurking in the fridge and it has been such a success; I have made it twice from scratch since then!
I seem to be having a bit of a cauliflower crush at the moment. I'm not sure it's because of the weather turning a bit cooler or these fabulous autumnal days but I can't seem to get enough of it at the moment. I've even taken to nibbling it raw from the fridge!
Aswell as cauliflower I have added some pearl barley, this not only adds substance to the salad, but gives it a wonderful nutty flavour making this salad not only great served as a side, but also really tasty and fulfilling on its own.
The measurements for the ingredients are approximate, you can tweak them as much as you like depending on your taste…if you like more cauliflower just add a little more.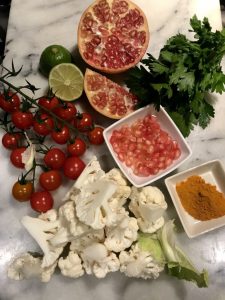 Spiced cauliflower and pomegranate salad with pearl barley
Difficulty: Easy                                   Serves: 4 as a side or 2 as a main dish
1 cup of cauliflower florets
1 tsp turmeric
1tbsp light olive oil
2/3cup pearl barley
1 large pomegranate
4 spring onions (optional)
1 large bunch of flat leaf parsley chopped
1/2 cup cherry tomatoes cut into quarters
1 courgette cut into ribbons
pomegranate molasses to taste
1tbsp walnut oil
sea salt and freshly ground black pepper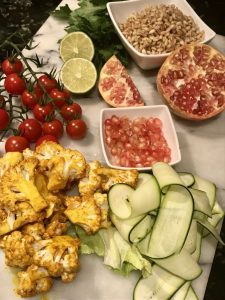 Cook the barley in boiling water till soft (about 25-35 minutes). Drain and rinse under cold water and place in a bowl.
Mix the turmeric and oil in a bowl and toss the cauliflower in the spice oil and mix well. Heat a large frying the pan and cook the cauliflower in batches till it blackens on both sides then remove from the pan and add to the barley. Take care not to over cook it.
Cut the pomegranate in half and using the back of a wooden spoon bash out the seeds into the bowl with the barley.
Add the tomatoes, courgette ribbons, spring onions( if using) and parsley and season well with salt and pepper. Drizzle over a little pomegranate molasses and add the walnut oil and mix well. Serve on its own or with barbecued meat or fish, or even shred any left barbecued meat or fish into the salad the next day.