Hummous or hummus is a staple in my fridge. Often around 5-6ish when I seem to get the munchies I can dip a few carrot or celery sticks into a bowl of hummus and that will stave off my hunger pangs till dinnertime; and I have to admit I feel rather virtuous for not having scoffed a bag of crisps!
The traditional way of making hummus is with chickpeas, tahini, garlic, lemon and olive oil. However the chickpeas can be substituted with other beans such as cannellini beans, butter beans, or even peas. Fresh herbs and spices are also a great way to add flavour.
To keep it simple for these dips I have used the basic hummus recipe as a base, then I have added other ingredients for extra colour and taste. I found that roast root veggies (carrots, onions and beetroot are particularly good) make a fabulous addition to hummus and are a great way to use up any leftovers from Sunday lunch!

Five easy dips, beetroot and Lime, red pepper, carrot and turmeric, classic hummus and pea and mint.
Difficulty: Easy Serves: Approx 1Kg or 5x200g dips
basic hummus recipe
2 cans of chick peas
2 cloves garlic
2tbsp tahini
juice of a lemon
3-4 tbsp olive oil
sea salt and freshly ground black pepper
Rinse the chick peas in cold water and place in a blender with the tahini garlic lemon juice and olive oil. Blitz together adding a little (about a tablespoonful) of cold water to loosen the mixture if necessary, the hummus should have the consistency of a thick paste. Season to taste.

Beetroot hummus with a twist of lime
2 beetroot
200g of basic hummus
lime juice to taste
Preheat the oven to 220C. Place the beetroot on a roasting tray (skin still on) and roast for 40-45 minutes until soft. Remove the skin from the beetroot and blitz till smooth with the juice of half a lime. Add the hummus and blitz again. Season with sea salt and black pepper to taste adding a little more lime if necessary.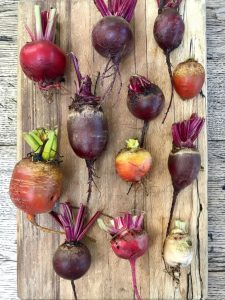 Red pepper and smoked paprika hummus
1 red pepper
1/2 tsp smoked paprika
200g basic hummus
Roast the pepper under a hot grill or over the naked flame of a gas hob till the skin has blackened all over. Leave to cool then scrape off the blackened skin, cut in half and remove the pith and seeds and place the flesh in a food processor with the paprika and hummus. Blitz till smooth and season with sea salt and black pepper to taste.
Carrot and turmeric hummus
2 medium carrots peeled
1tsp turmeric
1tsp olive oil
200g basic hummus
Preheat the oven to 200C . Cut the carrots lengthways into four and rub the olive and turmeric over the carrots. place on a baking tray and roast in the oven for about 15-20 minutes till soft. remove from the oven and leave to cool.
Place the carrots in a food processor with the hummus and blitz till smooth. Season with sea salt and black pepper to taste.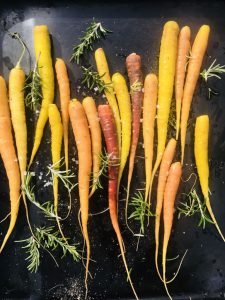 Pea and mint hummus
100g frozen peas
1 small handful of fish mint chopped
200g basic hummus
Cook the peas in boiling water for 1 minute then rinse under cold water and drain. Place the peas mint and hummus in a blender and blitz till smooth. Season with sea salt and black pepper to taste.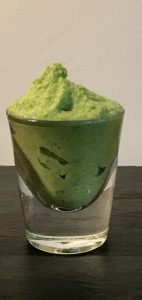 Red pepper and smoked paprika hummus
1 red pepper
1/2 tsp smoked paprika
200g basic hummus
Roast the pepper under a hot grill or over the naked flame of a gas hob till the skin has blackened all over. Leave to cool then scrape off the blackened skin, cut in half and remove the pith and seeds and place the flesh in a food processor with the paprika and hummus. Blitz till smooth and season to taste.
Carrot and turmeric hummus