Earlier this year before lockdown was set, I was lucky enough to go on a trip to India. whilst there, I sampled some fabulous local dishes as well as some of the classic Indian staples, such as paneer. I have to admit I have never really appreciated the wonderful diversity of dishes that it can make. Up until then, I had been used to the rather bland rubbery paneer is sold vacuum packed in the UK rather than this wonderful freshly made soft paneer that I discovered in the local markets in Rajasthan.
After a cooking class in India and watching a wonderful video www.roopagulati.com I have started making my own paneer which not only is incredibly easy to do, but tastes wonderful too. I like to make the paneer the day before so that the flavours in the paneer can develop but you can make it on the same day if you prefer.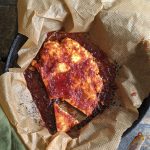 Ingredients
For the paneer
2 pints milk slightly on the turn or left out of the fridge for a day
150ml double cream
2tsp sea salt
1tsp ground cumin
1tsp ground coriander
2 cardamon pods
juice of a lemon
For the sweet chilli sauce
2tbsp sweet chilli jam
1tbsp toasted sesame oil
1tbsp apple juice
Instructions
First make the paneer. Split the cardamom pods and place in a pan with all the other paneer indgredients except the lemon juice and bring very slowly to the boil. As soon as it starts to boil add the lemon juice a stir. The mixture will then split into curds and whey, don't worry this is supposed to happen.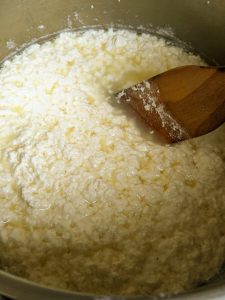 Place a large muslin cloth over a seive and carefully pour the contents of the pan over a bowl. The curds of the paneer will be trapped in the muslin. Remove the muslin with the cheese and place on a baking tray and place another baking tray or plate on top. Cover this with a heavy weight or block and leave to cool. When cool I like to keep it in the fridge over night for the flavours to develop.
Next day, Preheat the oven to 200C and make the sauce by mixing the sweet chilli jam, sesame oil and apple juice together. Place the paneer on a sheet of baking paper on a baking tray and pour over the sauce. Bake in the oven for about 20 minutes until soft and sticky. Remove and serve with some chapatis or flat breads for dunking.