At the moment some of us maybe going a little stir crazy self isolating at home. So mealtimes have become even more important as a way of breaking up the day . Making something really tasty for lunch is a great way of highlighting the day.
This tuna and bean recipe is really simple and easy dish made up of things you might find in your store cupboard and you can tweak around with it depending what you have available. Fresh cooked beans or some chopped cucumber are also great additions and it"s also one of those dishes that taste even better the next day when all the flavours infuse together.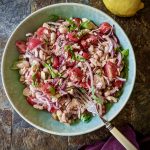 Ingredients
1 tin cannellini beans
1 tin tuna
1 tin anchovies
1 red onion finely sliced
2-3 handfuls of cherry tomatoes/ 4 salad tomatoes chopped
1 tbsp capers chopped
6-8 gherkins chopped
juice of a lemon
1tbsp olive oil
sea salt and freshly ground black pepper
Instructions
Place all the ingredients in a bowland season with a little salt and freshly ground black pepper. Mix well and serve with crusty bread for mopping.