This deliciously moist cake came about when I was teaching my son to make a Lemon polenta cake and we were missing the vital ingredient… the polenta. Suddenly a little tweaking ensued and this wonderful sticky lemon and almond cake was created. I often think some of the best recipes have come about this way.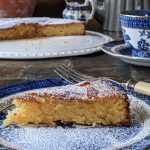 Ingredients
280g ground almonds
200g castor sugar
240g soft butter
3 eggs
zest of 2 lemons and juice of 1 lemon
1heaped tsp baking powder
pinch of salt
Instructions
Grease and line a 9"/22cm loose bottomed cake tin with baking parchment. Preheat the oven to 170C.
Cream butter and sugar together until light and fluffy. Beat in one egg at a time then fold in ground almonds with baking powder, salt and lemon zest. Stir in the lemon juice and place cake mix in the prepared tin.
Cook in the middle of the oven for 30-35 minutes till golden brown and a skewer comes out clean.
Leave to cool in the tine before turning out onto a plate.