I love shaved fennel in a salad, it has such a wonderful delicate aniseed flavour so it is better eaten with only a few other ingredients so you can savour its wonderful clean fresh taste. Sliced up on its own with a drizzle of olive oil and a little squeeze of lemon it makes a wonderful refreshing salad to accompany grilled fish or chicken. For this salad I"ve dressed it up a little and added some pears, parmesan and walnuts. The pears want to be just ripe, but still slightly firm when you slice them so they add texture to the salad. You can make most of this salad in advance but it's best to slice the pears at the last minute to keep their freshness.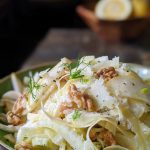 Ingredients
2 bulbs of fennel
2 ripe dessert pears (Rocha or William)
1 lemon
1 handful of walnuts
20-30g fresh Parmesan
olive oil
sea salt and freshly ground black pepper
Instructions
Using a sharp knife, cut the fennel in half remove the fronds reserving the green dill like parts for garnish. Thinly slice the fennel and place in a bowl. Squeeze over the lemon juice and toss well. Place the nuts in a frying pan and toast them over a medium heat for a couple of minutes until they start to colour slightly. Leave to cool. Cut the pears into quarters, remove the core and thinly slice and add to the fennel.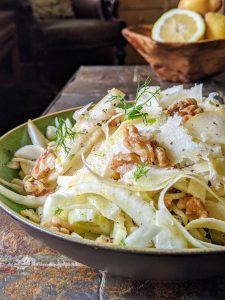 Drizzle over a little olive oil and season with salt and pepper and toss well. Using a potato peeler shave off some parmesan and sprinkle olive the nuts gently toss and sprinkle over the reserved fronds and serve.