In many Asian restaurants 'Black Cod" has been very popular and restaurants can charge huge prices for what is actually in most cases frozen fish from Canada and the North West shores in the states.
Black cod is actually sable fish and comes from the cold waters off Vancouver and North America. It has a delicious firm white flesh with a unique buttery taste. Nobuyuki Matsuisia from the famous Nobu restaurant made a wonderful marinade of sweet miso, sake, sugar and mirin which he slathered all over the black cod and marinated it for a couple of days before roasting it in the oven. Although absolutely delicious it is rather difficult to obtain so I have adapted the recipe (rather a lot!) and come up with a really quick but very tasty alternative using salmon. It's also great for a meal for one or a dinner party.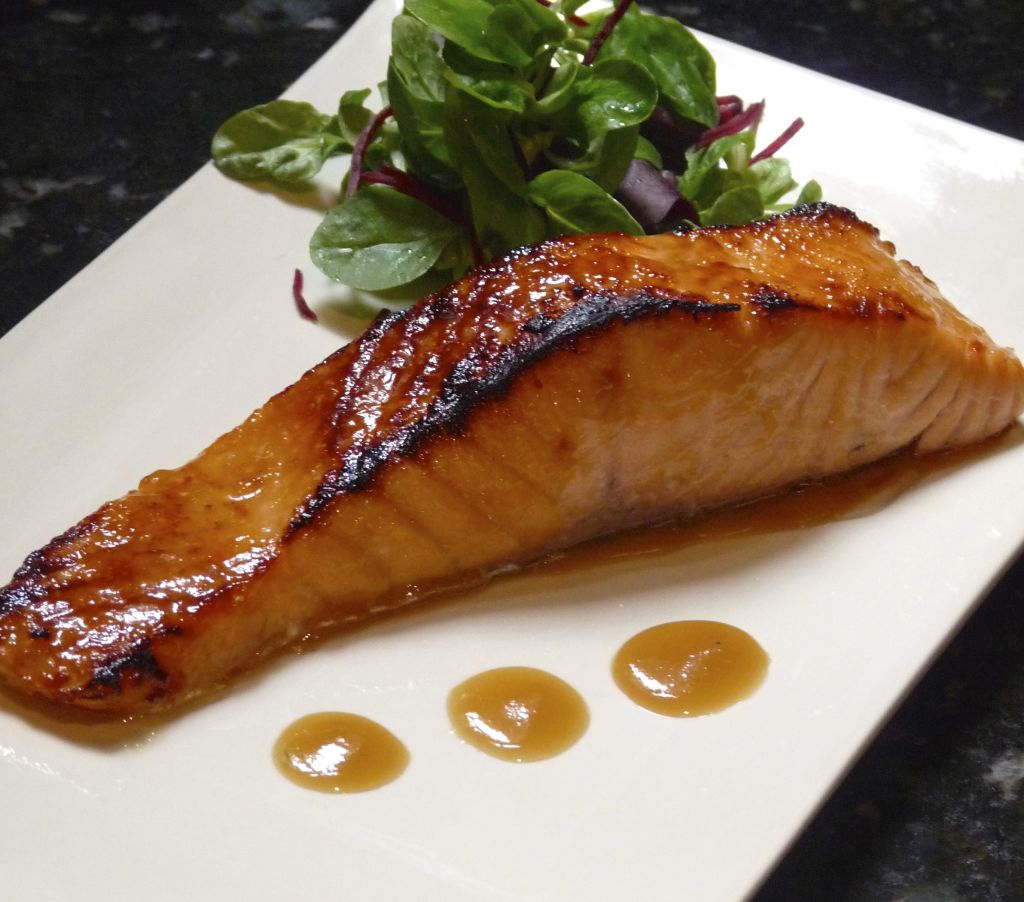 4 Salmon fillets
250g Sweet white miso paste (1 packet)*
75ml Sake or medium white wine
75ml Mirin**
120g White sugar
Bring the sake and mirin to the boil and boil for 20 seconds to burn off the alcohol. Lower the heat and add the sugar when dissolved add the miso paste and stir well till smooth. Turn up the heat and boil for 2 minutes then remove from heat and leave to cool.
Take two large tablespoons of the marinade and smear over the salmon. Leave to marinade for at least 30 minutes but up to two hours.
When ready to cook, turn grill onto high, place the marinated fillets on a baking tray and grill for 6-8 minutes. (Depending on thickness of fillets) check the fish is not turning too brown, if it is just place it on a lower shelf till cooked. The fish is better slightly under done in the centre.
The cooking time may vary depending on the size of the fillets. This also works very well with cod.
The marinade will keep up to a week in the fridge. Serves 4
*Sweet miso is normally available from Waitrose and large Sainsbury's and oriental supermarkets. However if it is out of stock (like it was when I was planning this dish) you can buy it online direct from Clearspring – http://www.clearspring.co.uk – or alternately you can use the white miso glaze from Waitrose (not quite the same but works as a substitute.)
**Mirin is Japanese fermented sweet wine and can be bought from most supermarkets.