Although the weather has been a little iffy of late it, has been quite mild so the barbecue has still been in use. (Good for me as it means less washing up!).
The great thing about a barbecue is that you can cook a huge variety of things on it. Meat, fish, vegetables bread and even fruit all get charred and sizzled on the grill.
Personally I'm a bit of a traditionalist when it comes to the BBQ, I prefer using hot coals, with soaked wood chips and herbs which gives a wonderful additional flavour to the meat. However for convienince, the gas BBQ can still add flavour, the important thing is to get a good marinade or dry rub into your meat. This will drastically improve the taste.
Butterflied leg of lamb is a great cut of meat especially when you are cooking for large numbers. The fat to meat ratio is perfect, not too much that it burns, but enough to keep the meat nice and juicy, and without the bone, it is quicker to cook too. I usually allow 30-40 minutes for a whole butterflied leg of lamb (this will serve 8-10 people). Half a leg should take 20-25 minutes and serve 5-6 people. If there are only two of you then lamb rumps are a tasty option.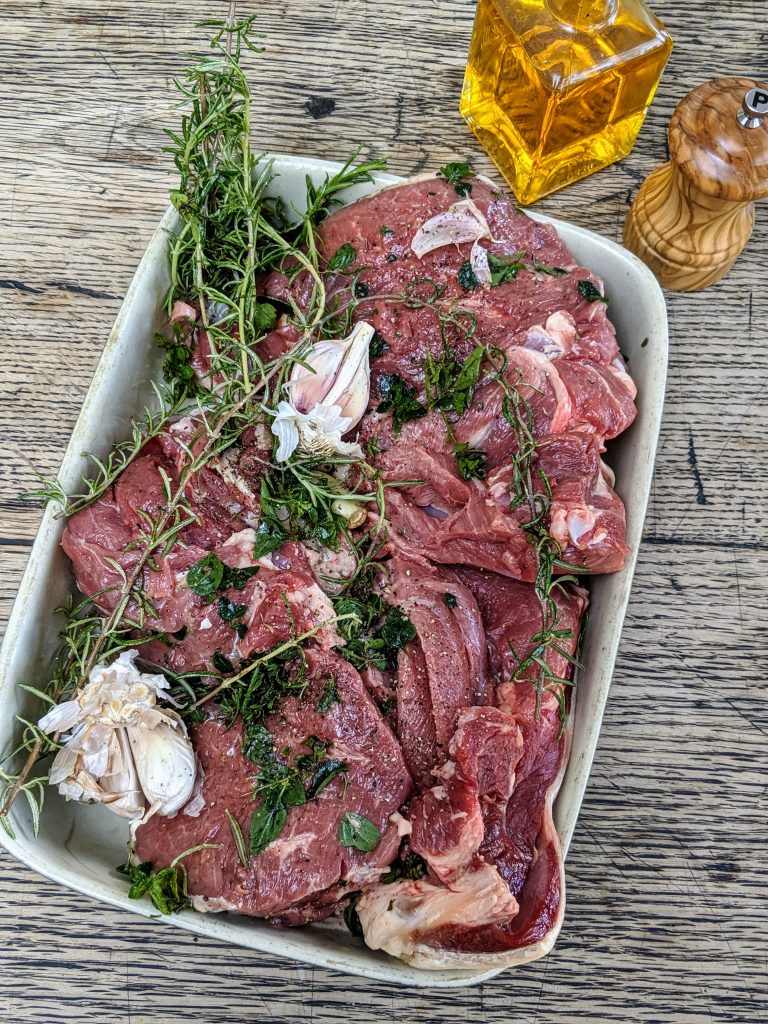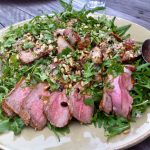 Ingredients
1 butterflied leg of lamb
2 bulbs garlic cut in half
10 sprigs rosemary
1 small bunch marjoram chopped
2tbsp olive oil
3 red peppers
2 handfuls rocket
sea salt and freshly ground black pepper
Pistachio pesto
100g pistachios
1 large bunch basil
1 clove garlic crushed
2tbsp olive oil
sea salt and black pepper
Instructions
First Marinade the meat by placing it in a large bowl or plastic bag and add the garlic, herbs, olive oil and a generous grind of pepper. Leave in the fridge to marinade for at least 2 hours or over night.
Remove lamb from the fridge and season with salt. Heat the BBQ till the the coals are white and place the lamb on the rack and top with the garlic and herbs. Cook for 15 minutes then remove the garlic and herbs, turn over and replace the garlic and herbs on top. Cook for another 15 mins for rare, 20-30 mins for medium rare. Remove from the rack and loosely cover with foil and leave to rest in a warm place for 15 minutes. (This is important so the lamb relaxes and will be pink and juicy.
Whilst the meat is resting, Cook the peppers over a direct heat till blackened on all sides then place in a plastic bag cool.
Make the pesto by placing the nuts in a frying pan over a high heat for 1-2 minutes till they start to toast (colour). Remove from the heat allow to cool then blitz them quickly with the garlic and basil. (It still wants to be quite coarse). Add the oil and season with salt and pepper to taste.
When the peppers are cool, remove the skins and slice.
To serve, carve the lamb and place on a large platter with the rocket around the edge. top with the peppers and a drizzle a little pesto. Serve with the remaining pesto on the side.