Pavlova is having a bit of a retro revival of late. Pillowy light layers of meringue sandwiched together with cream or curd then topped with any summer berries or tropical fruit will always be a winner, and as long as you follow a few basic principals it really is very easy to make.
With this cake the cooking time is a little quicker than for a basic pavlova (see my Strawberry and passionfruit pavlova ) as it is cooked over a higher heat. However the end result is quite delicious and the addition of hazelnuts makes the meringue lovely and chewy.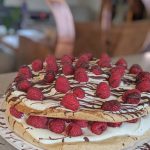 Ingredients
4 egg whites
2oog castor sugar
1/2 tsp vanilla essence
1/2 tsp white wine vinegar
100g hazelnuts
300ml double team
300g raspberries
a little light groundnut oil for greasing
50 dark chocolate
Instructions
Mark two 20 cm circles on some greaseproof paper and lightly brush with oil. Place on two baking sheets.
Preheat the oven to 190C or 175C for fan ovens.
Place the nuts in a frying pan over a medium heat and toast the nuts till they start to colour. Remove from the heat and leave to cool then blitz and reserve.
Using a clean greasefree bowl beat the egg whites until stiff, then gradually beat in the castor sugar till very stiff. Add the vinegar and vanilla essence and lastly fold in the prepared nuts. Pipe or spread the meringue mixture evenly onto the two circles and bake for 30-40 minutes.
Remove from the oven and leave to cool.
Whisk the cream and spread half of the cream on one layer of the meringue. Scatter over 2/3 of the raspberries. Top with a spoonful of the remaining cream and place the second layer on top. Decorate the top layer with the remaining raspberries and cream.
Melt the chocolate in a bowl over simmering water. Take a teaspoon and using a quick backwards and forwards motion scatter the top of the meringure with the chocolate.
Leave to cool 15 minutes before serving in slices.