We had quite a crowd for lunch today, and since it was Easter I fancied making something a little more colourful to brighten up the day. Lamb is a traditional favourite at Easter and is particularly good when barbecued. Having got the butcher to butterfly a leg of lamb I then marinated it in some olive oil, garlic, lemon and herbs the day before then let my husband (who is somewhat a barbecue maestro as all men naturally are…) cook it on the barbie. So all I had to do was make a few salads.
Beetroot is a wonderfully versatile vegetable, it can be served in many different ways; raw, thinly sliced  and pickled, or grated into a salad, boiled then fried in a little butter, caramelised with orange and marmalade or and probably my favourite way is by roasting the beetroots whole in their skins. When you roast the beetroot all the natural sugars seep out and intensify the flavour giving the beetroot a wonderfully rich and sweet earthy flavour.
So I made this salad by roasting some golden and ruby beetroot then  added some salty feta which cut through the sweetness of the beetroot, with a sprinkling of toasted pistachios to add a little extra crunch and finish off the dish. Incredibly simple but still packed with flavour.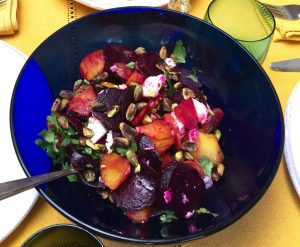 Beetroot and Pistachio salad
Difficulty: easy                       Serves:4-6
6 medium golden beetroot
4 ruby beetroot
80g feta thinly sliced
40g pistachio nuts
1tbsp chopped chives 1tbsp chopped mint
1tbsp white balsamic vinegar
2tbsp extra virgin oil
Preheat the oven to 220C.
Wrap the beetroots in two separate pieces of foil and roast in the oven for 45-55 minutes until the beetroots are cooked. Remove from the oven and leave to cool. (This maybe done a day in advance).
Peel the skins of the beetroot and slice into a bowl. Place the pistachio nuts in a frying pan and heat for 2-3 minutes over a medium heat until they begin to colour. Remove from the heat and cool.
Chop the nuts and add to the beetroot with the slices of feta cheese, herbs, oil and vinegar.  Season with plenty of black pepper and a pinch of salt. Mix well and serve with crusty bread or barbecued meat.
Goats cheese works very well instead of the feta.