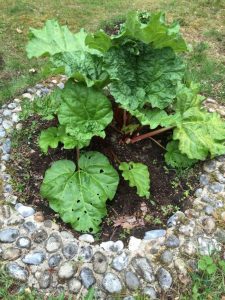 The rhubarb in my garden has been growing like wild flower this year and although I love rhubarb the rest of my family are not so keen. The odd rhubarb crumble they will grudgingly munch on (as long as there is lots of cream, custard or salted caramel  sauce, this seems to really get them going !) Otherwise they remain unconvinced. That is now about to change…
Rhubarb and strawberries are a classic combination, so with the new season   of English strawberries just beginning to arrive  in the shops, what better than to incorporate them both in a luscious creamy pudding.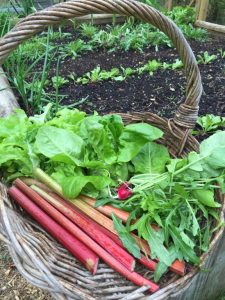 Rhubarb, strawberry and raspberries with white chocolate and yogurt.
Difficulty: easy                    Serving: 6-8
4-5 rhubarb stalks
400g strawberries
200g raspberries
300g white chocolate
1 large pot of natural unsweetened yogurt
2-3tbsp demerara sugar
1tbsp water

Wash the rhubarb and cut into pieces 4cm long. Place in a small pan with the sugar and water. Cook over a gentle heat for about 5 minutes until the rhubarb is just beginning to  soften. Remove from the heat and  taste for sweetness adding a little more sugar if necessary  (swirling the sugar in the pan to allow it to dissolve.) Leave to cool.
Break the white chocolate into pieces and place in a bowl over (but not touching) simmering water until it melts. (It is important to be patient with white chocolate do not stir it until it has melted.) Stir in the yogurt, mix well and pour onto a large dinner plate. Place in the fridge to set for at least 30 minutes.
When ready to serve, slice the strawberries in half and scatter  with the raspberries over the yogurt and chocolate mixture.  Top with  the rhubarb prices  and drizzle over a little of the rhubarb juices over the top.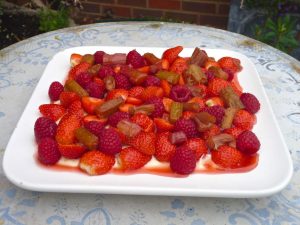 Serve immediately. You can make this dessert in advance and leave in the fridge but do not add the rhubarb until the last minute.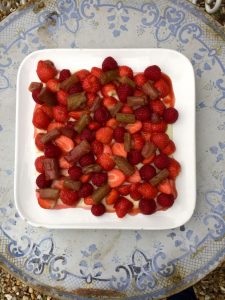 For all you crumble lovers out there, I will post my rhubarb and pistachio crumble with salted caramel sauce later this week.