I have been rather neglectful of late with posting recipes. I sneaked off with the family just before Christmas to the beautiful Island of Lamu just off the Kenyan coast. Sun, sea and a drove of donkeys; a perfect prelim to the mad chaotic rush of Christmas.
After the usual meat laden diet over Christmas I feel the need for lighter, less protein rich meals. More fruit and veggies, a little fish maybe but definitely no meat for the next few weeks…or days at least!
This Thai veggie salad recipe really hits the spot, and although you are basically only eating a pile of veggies it really is very TASTY and remarkably satisfying…even my old man thought it was delicious and didn't even notice the lack of meat, which is quite an achievement!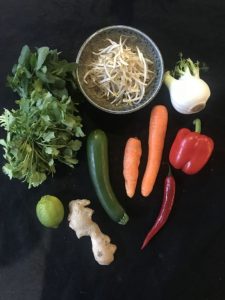 Skinny and Delicious Thai veggie salad
Difficulty: Easy                      Serves: 4
3 peppers (I prefer to use 1 red, yellow and orange pepper as it's more colourful)
1 bulb fennel
1 large courgette
2 large carrots
3 handfuls beansprouts washed
1 bunch of mint chopped
1 bunch of coriander
2tbsp sesame seeds
Dressing
1tsp freshly grated ginger
zest and juice of a lime
1 stick lemon grass outer leaves removed and finely chopped
2tsp fish sauce
1 red finger chilli deseeded and finely chopped
1tbsp toasted sesame oil
First make the dressing by mixing all the ingredients for the dressing together. Taste for seasoning adding a little more fish sauce if necessary.
To make the salad; peel the carrots then use a julienne peeler to cut the carrots into matchstick strips  and place in a bowl.( if you haven't got a julienne peeler use a vegetable peeler to cut the carrots into ribbons then take a sharp knife and cut the ribbons into long matchsticks). Repeat the process with the courgettes (but no need to peel the courgettes first.) add these to the carrots.
Cut the fennel in half lengthways then finely slice (if you have a mandolin use it) and this to the salad.
Deseed the peppers and cut into fine strips and add to the salad.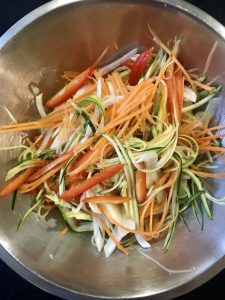 Just before serving, add the beansprouts and fresh herbs and pour over the dressing and toss well . Sprinkle over the sesame seeds and serve.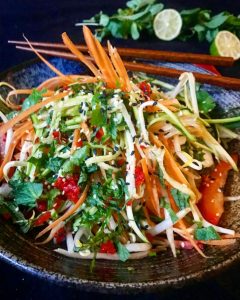 These vegetables are delicious on their oven or can be served with "Black" Salmon with Sweet Miso