A girlfriend of mine was bemoaning how difficult it was to cook for all the different dietary requirements of her family. A vegetarian, a non red meat eater, a voracious meat eater, a health nut….trying to satisfy the whole family without cooking 5 separate dinners was proving quite strenuous! So I've come up with the perfect solution with this Healthy Chicken with Chimichurri sauce and Chargrilled veggie recipe. 'But What about the vegetarian you may ask? ' Don't worry, just leave out the chicken for the vegetarian and everyone should be happy!
Chimichurri sauce is usually green, and is a wonderfully fresh raw sauce which can be used as a marinade (great with meat or fish) or as a sauce. The red chimichurri originates from Argentina where they use it to marinade their wonderful steaks. The only real difference is that red chilli is used instead of green and a little smoked paprika is added too.
The great thing about this recipe is that you can vary the vegetables you use and any leftovers make a very tasty wrap the next day. As I am serving the chimichurri as a sauce rather than a marinade I have reduced the amount of garlic, but you can add more to taste if you prefer. For all those who detest coriander,and I know there's a few, just leave it out and add more parsley.
Chimichurri sauce
1 large handful flat leaf parsley (stalks removed)
1 large full coriander (with stalks)
1tsp dried oregano (or 2tsp fresh)
1/2 red onion chopped
1-3 cloves garlic (depending on taste) crushed
1 green finger chilli seeds removed and chopped
1tbsp white wine vinegar
3tbsp olive oil
sea salt and freshly ground black pepper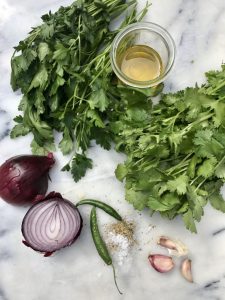 Blitz the herbs in a food processor then add the onion, garlic and chilli and blitz quickly again (not too much as you don't want a paste). Add the remaining ingredients pulse again and season to taste. Store in a clean jar till needed.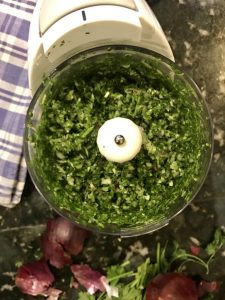 Healthy Chicken with Chimichurri sauce and Chargrilled veggies
Difficulty: Easy                        Serves:4
3 chicken breasts
1 aubergine sliced into rounds
2 medium courgettes cut in half and sliced lengthways into strips
1 red pepper
2 handful of cherry tomatoes
2 sweet potatoes  peeled and cut into dice sized cubes
2tbsp olive oil
1 tbsp chopped coriander
1 quantity of Chimichurri sauce (see above)
sea salt and freshly ground black pepper
a pinch of dried chilli flakes
Preheat the oven to 200C. Toss the sweet potatoes in a tablespoon of olive oil, chilli flakes and season with salt and pepper and place in a roasting pan and roast for 20-25 minutes till golden brown and cooked through.
Whilst the potatoes are roasting. Slice the chicken into "fat finger" sized strips and add 1/2tsp olive oil the chopped coriander and season with sea salt and black pepper. Leave to marinate whist you prepare the vegetables.
Place a large frying pan or griddle pan over a high heat and griddle the aubergines and courgettes (they should be golden brown on both sides). Place in a bowl then add the sliced peppers and 1/2 tsp olive oil and fry the peppers till they start to soften and colour. Add the tomatoes to the pan and cook for another 3-4 minutes tossing the pan occasionally.  (Take care not to over cook the tomatoes or they will turn to mush). Remove the peppers and tomatoes from the pan and add to the aubergines and courgettes.
Using the same pan , quickly cook the chicken (in 2-3 batches) over a high heat  for 2-3 minutes either side. The chicken wants to be a light golden brown and just cooked.
Add the cooked sweet potatoes to the other vegetables with a spoonful of olive oil and season well.
To serve place the vegetables on a large serving dish and place the chicken over the top. Generously drizzle the Chimichurri sauce  over the top and serve.