'Wet' walnuts are in season now and although the season is short (from early October to mid November), they really are quite special so it's  worth looking them out.
Wet walnuts are from freshly harvested  'green' walnuts so their outer shell is softer and often slightly moist. You can crush the outer shell with your hand. The inner nut has a slightly creamy and distinctive flavour, often described as the king of nuts!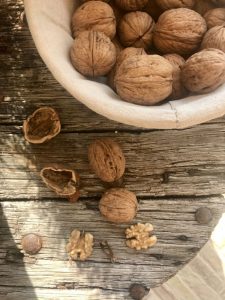 You can buy wet walnuts from good green grocers and also they are available on line freshly picked from France and Italy.
One of the quickest (and delicious) recipes to make with wet walnuts is a topping with maple, corn or even brown rice syrup. The nuts are simply coarsely chopped and mixed with the syrup. Kept in a jar in the fridge they make a delicious topping over ice cream, stewed fruit or breakfast muesli.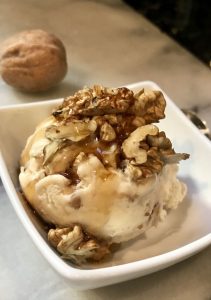 Wet walnuts make a delicious addition to salads. These nuts are a great way to 'pimp' up a salad, adding more flavour and texture. Chicory roquefort and walnut salad is one of the easiest salads to make; dress it with a splash of walnut oil and apple cider vinegar and you're done!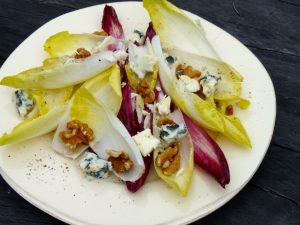 One of my favourite recipes to make is wet walnut pesto. The walnuts make a great substitution to the pine nut, the wet walnuts making  the pesto slightly creamier. You can also use normal walnuts later in the year. This pesto will keep well stored in a jar in the fridge for 4-5 days. ( It might loose a little of it's vibrant green colour but it will still taste very good).
Wet walnut pesto
Difficulty: Easy                             serves: 4
I large bunch of basil (stalks removed
2-3 cloves garlic crushed
1/2 cup of wet walnuts (shells removed)
1/2 grated Parmesan
2 ice cubes
1/3 -1/2 cup olive oil
sea salt and freshly ground black pepper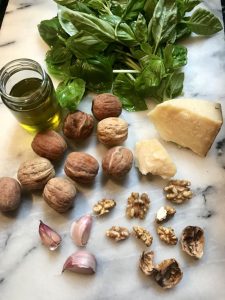 Place the basil and nuts in a blender a blitz. Add the oil, garlic and ice and blitz again. I like to leave my pesto slightly chunky but if you prefer it smoother blitz some more. Stir in the Parmesan and season with black pepper and a little salt.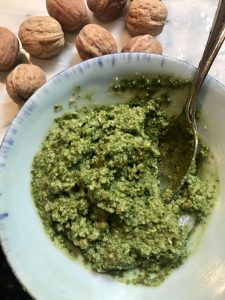 Walnut pesto is delicious when stirred into pasta but also works well with gnocchi and is great when drizzled over barbecued meats too.