I've made many frittata over the years and one thing I've learned is the simpler the better. Trust me, just three ingredients will make a fabulous meal.
So here are the principals for making a great frittata:
Always use really fresh eggs, preferably ones with really rich yellow yolk.
Great Parmesan or Pecorino is essential.
Make sure your third ingredient is really fresh.
Oh, and you can chuck in a few fresh herbs if you want!!
Purple sprouting broccoli is in season at the moment and is quite delicious. Try it steamed with a little olive oil and lemon, or stir fried with chilli and garlic. I think its much tastier and more interesting than normal broccoli…sorry but it's true!!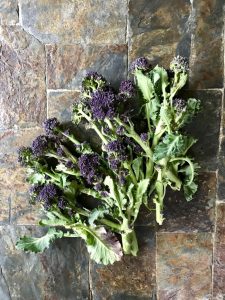 This is a great recipe when you need to whip something up in a hurry, but still fancy something tasty and satisfying. It takes less than 15 minutes to make, and that's when my dad makes it, so really anyone can put it together. You can also substitute the broccoli for peppers or pepperoni but do try to make it at least once with the broccoli as it really does taste fabulous.
Quick supper of broccoli and Parmesan frittata
Difficulty: Easy                                     Serves: 1-2
3 eggs
8-10 purple sprouting broccoli spears
1tsp fresh thyme
1tbsp grated Parmesan and a little extra for serving
sea salt and black pepper
1/2tsp light olive oil
Cut the broccoli spears into 10 cm lengths then cook in boiling water for 3 minutes then refresh in cold water and drain on kitchen paper.
Preheat the grill.
Take a small non stick frying (15cm base) and heat the oil over a medium heat. Beat the eggs in a bowl and  season with salt and pepper and pour into the frying pan, cook for a minute  using a fork to move the eggs into the centre as they cook. When the eggs are half cooked add broccoli and parmesan cheese then place the frittata under the grill for 2-3 minutes until the cheese has melted and the eggs are cooked.
Remove from the grill and gently place on a plate and sprinkle over a little extra Parmesan cheese.