---
A few years ago an old Italian friend of mine gave me a wonderful tip when serving mozzarella. NEVER serve it straight from the fridge. Like other soft cheeses  it should always served at room temperature so that you can really appreciate the soft creamy flavour.
Burrata is slightly different to mozzarella because its centre is much creamier and richer. In fact, burrata is  made by using pure mozzarella as it's outer shell then the filling it with a mixture of stracciatella and cream. A truly decadent cheese. It's often best served drizzled with a little olive oil and salt and pepper.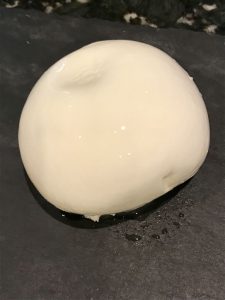 For this recipe I have still kept it quite simple but I think the addition of a few vegetables cooked in different ways really enhances the flavour of the burrata.
Meat free Monday with Creamy Burrata and  Mediterranean veggies
Difficulty: Easy                         Serves: 4
2 small burrata
1 small aubergine sliced
1 red pepper
2 Heritage tomatoes
1/2 small butternut squash
1 small bunch flat leaf parsley chopped
sea salt and freshly ground black pepper
2tbsp olive oil plus a little extra for serving
Remove the burrata from the fridge.
Preheat the oven to 200C. Slice the butternut squash lengthways into 3 and rub a tablespoon of olive oil over the top and roast in the oven for 30 minutes until soft.
Slice the pepper into thin strips and quickly fry in a tablespoon of olive oil with a pinch of salt for 3-4 minutes until they colour and begin to soften. Remove from the pan and reserve.
Using the same pan turn up the heat and griddle the aubergines for 2-3 minutes either side so they colour and soften.
Cut the tomatoes into sixths (or eights depending on the size).
To assemble the salad. Slice the burrata and place in the centre of a large plate. Arrange the rest of the vegetables around the plate (use a spoon to scoop the flesh from the squash). Sprinkle over the parsley and season well with salt and pepper and drizzle over a little oil oil.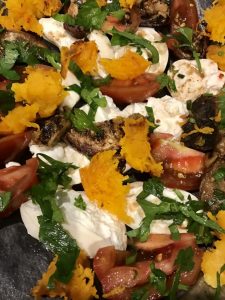 Little tip: 
Serve with warm ciabatta bread on the side.