Out of all the root vegetables beetroot has got to be my favourite. Its rich deep  earthy flavour when roasted, only needs  just a little drizzle of olive oil, some sea salt and black pepper  maybe a sprinkling of fresh oregano and you have a delicious accompainment to some roast lamb or barbecued chicken. They also make excellent crisps, a much healthier alternative to shop bought ones.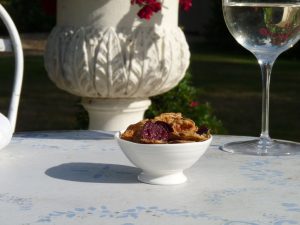 To make the crisps, massage some very thinly sliced beetroot with a little olive oil then sprinkle them with a little sea salt and black pepper and bake in the oven for 3o minutes, they couldn't be simpler.   You can grate beetroot raw and add to a salad or make it into a slaw with some apple, horseradish and carrot.  It makes a great smoothie when blitzed together with apple and ginger in a nutribullet.  As a dessert in chocolate cake or brownies.(See my recipe for chocolate and beetroot cake Gluten and dairy free chocolate hazelnut and beetroot cake) . Beetroot is a remarkably versatile vegetable!
Another great tip with beetroot, is that when roasted or baked  whole,( skins on)  it will keep  for 5 days in the fridge. Unlike many other vegetables when reheated it does not loose its taste or texture. So it makes a wonderful addition to risottos, not only adding great flavour, but also giving it a glorious vibrant red colour!
I made this risotto using pearl barley instead of risotto rice. Pearl barley gives a nuttier flavour and texture to the risotto, but if you prefer a creamier version use Carnaroli or Arborio risotto rice.
Beetroot feta and pearl barley risotto
Difficulty: medium/easy    Serving: 2
2 roasted large sized beetroot peeled and cut into 1cm dice
1 onion finely sliced
150g pearl barley
800ml vegetable or chicken stock
80g feta cheese crumbled plus a little extra for serving
1tbsp chopped oregano
1tsp finely chopped fresh rosemary
2tsp olive oil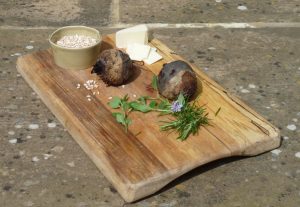 Gently fry the onion in the olive oil for 5 minutes until it starts to soften. Add the barley, herbs and beetroot and stock and bring to the boil then turn down to a gentle simmer and cook for 25-30 minutes stirring occasionally  (you may need to add a little more stock if all the liquid has absorbed). When the pearl barley is cooked remove the risotto from the heat and stir in the feta cheese and rosemary. Season with black pepper (it probably will not need any salt as the feta cheese is quite salty). Serve in bowls with a little extra feta cheese crumbled over the top.