My little vegetable plot is really thriving now and producing vast quantities of spinach and courgettes. In fact if I'm really honest I got a little carried away in the sowing and when my seedlings took hold I did not thin them out as much as I should so now I have rather a glut of spinach. Consequently I am having to come up with more inventive ways of using it.  If I'm feeling virtuous at breakfast its great blitzed up into a smoothie with some cucumber, pear, strawberry, almond butter and lemon juice. For smoothie ideas see my post Glow green(don't be put off by the colour, it tastes good!). I've made loads of stir fries  Stir Fried Summer Veggies with black bean sauce and one of my families all time favourites is my    Spinach balls with tender stem broccoli and sesame dressing. Now for a more substantial dish I have been experimenting with gnocchi. These gnocchi are really light and are delicious when served just with a little butter and sage or baked as a gratin with  fresh tomato sauce and Parmesan. For something a little more special I have made these with some sautéed girolle mushrooms (but you can use field mushrooms instead).
Spinach and ricotta gnocchi with  sautéed girolle mushrooms
Difficulty: medium                  Serves : 2
For the gnocchi
250g spinach
150g fresh ricotta
45g plain flour
75g grated Parmesan
2 egg yolks
1/4 tsp nutmeg
1tbsp chopped fresh marjoram
20g butter
Mushrooms
200g girolle mushrooms
1 clove garlic
8-10 sage leaves
1 tbsp  light olive oil  and 25g butter
First carefully wash the mushrooms and spin in a salad spinner  and place on kitchen paper to dry. (If you don't have a spinner just place on several sheets of kitchen paper).
To make the gnocchi; sauté the spinach with the marjoram and butter for 3 minutes, leave to cool and  finely chop. Place the  ricotta and egg yolks in a bowl and beat well. Season with  the nutmeg and a little salt and pepper. Sieve the flour into the mixture  then add the Parmesan cooled spinach.Carefully mix together.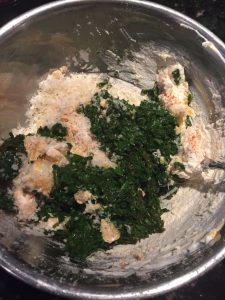 Using two teaspoons shape the gnocchi into quenelles and place on a tray lightly dusted in flour.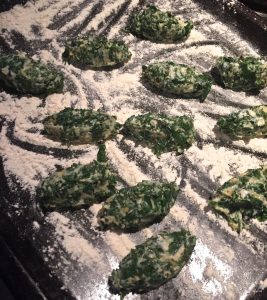 To cook the gnocchi. Bring a large pan of water to the boil then turn the heat down to a simmer. Carefully place a few of the gnocchi in the water (it is better to cook the gnocchi in batches  so as not to overcrowd the pan). As soon as the gnocchi have risen to the surface (about 1-2 minutes) carefully remove them with a slotted spoon and place on kitchen paper to drain.
Whilst the gnocchi is cooking heat a large frying pan. Add the oil and mushrooms. Sauté the mushrooms for 3-4 minutes then add the garlic, butter  and sage and cook for 30 seconds. Add the gnocchi and carefully swirl the pan so that the gnocchi is coated in the butter and garlic. Place on to plates and serve with a little extra parmesan grated on top.
If you prefer your gnocchi to have a smoother texture you can blitz the spinach instead of chopping it. You may also make larger gnocchi by using dessert spoons instead of teaspoons.