The rains have finely seemed to have abated our British shores only to be replaced by freezing cold winds from Siberia. After spending the past few weeks cleaning the mud that's been traipsed through the house by my kids and dog, I'm now having having to rub the frozen snowballs sticking to my spaniel's fur. Still I can't complain, it's much cleaner than mud!
With the weather turning colder it has been a great excuse to make home deliciously warming bowls of soup. There is nothing better than coming in from a brisk cold winter walk, to a nice hot bowl of soup, it's incredibly satisfying. It's also a great way to fill you up and usually low on the calories, (if you don't load up with lashings of hot buttered toast). Having said that I do like something to go with my soup, and when its really cold, salad doesn't quite do it for me. So for this recipe I have made some kale and sweet potato and paprika crisps on the side. You don't need to make them both, but they are a great little twist and any leftovers will always get eaten as a snack later. See my recipe The joy of lentils; Hot and spicy lentil and chilli soup with mint and yogurt.
Sweet potato, orange and chilli soup with vegetable crisps recipe
difficulty: easy                           serves:2
Sweet potato orange and chilli soup
1 large sweet potato peeled and roughly diced
juice of an orange
1 red chilli finely chopped
2 shallots peeled and finely chopped
750ml vegetable or chicken stock
2tsp olive oil
sea salt and freshly ground black pepper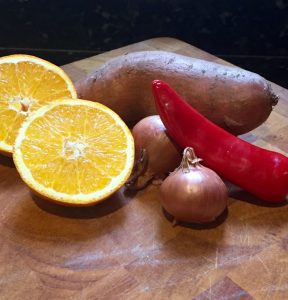 Heat the oil in a pan, add the shallots and sweat for 5 minutes until the shallots begin to soften. Add the chilli and potato and cook for 30 seconds then add the orange juice and stock. Bring to the boil then turn down to a simmer and simmer for 10-15 minutes until the potato is soft. Remove from the heat and place in a blender/nutribullet and blitz till smooth. Season with salt and pepper to taste. Serve with the vegetable crisps on the side.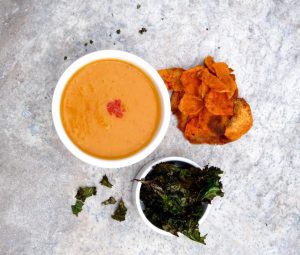 Vegetable crisps
difficulty: easy                           Serves :4
1 sweet potato
2 large handfuls of kale leaves torn into crisp size pieces and stalks removed
1-2tbsp oil oil
1tsp sweet smoked paprika ( a little more if you like it hot)
1tsp balsamic vinegar
sea salt to taste
Preheat the oven to 150C.
Peel the sweet potato and using a mandolin cut into thin slices.
Drizzle over a tablespoon of olive oil and the paprika and a pinch of salt and mix well.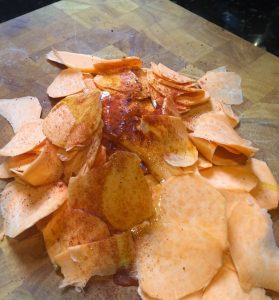 Place a sheet of foil over a baking tray and arrange the sweet potato slices on top (you may need to do this in several batches as you do not want the potato to overlap).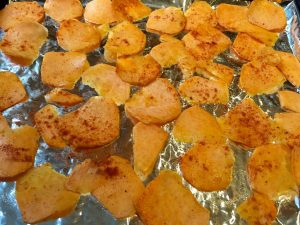 Bake in the oven for 10-15 minutes until crisp (take care not to burn them as they do not take long).
Repeat the process for the kale crisps using 2 tsp olive oil and 1tsp balsamic vinegar and a pinch of salt.(Omit the paprika).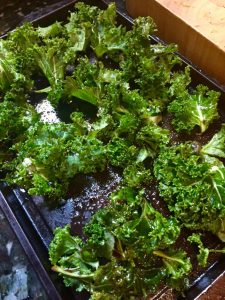 The crisps are best served immediately after baking and they are so delicious they won't last long. They are also great served as a pre dinner snack. Beetroot, carrot and parsnips also work well.