The other day I posted a recipe for a Carrot and walnut cake with coconut icing (dairy free) which was a huge success with my dairy free friends and followers. Keeping with the same theme, I thought it would be a good idea to try making a gluten free carrot cake instead..
Just because you cannot eat wheat, doesn't mean to say that you need to be deprived of cake! There are many delicious gluten free cakes available which can be made from gluten free, or rice flour or even ground nuts. My all time favourite, has got to be lemon polenta cake, a wonderfully rich cake made from ground almonds and polenta so is totally gluten free.
I was messing around in the kitchen this weekend, when I came up with this fantastic gluten free carrot and sweet potato cake. Okay I know sweet potato in a cake might sound totally crazy, but it works incredibly well trust me. When cooked and mashed up it adds a wonderful sweetness to the cake. Then to top it off, there is a luscious cream cheese icing with orange and chilli. Gluten free and packed with flavour, that's definitely a cake worth baking.
Gluten free carrot and sweet potato cake with orange and chilli icing
Difficulty: Easy                                           Serves: 8-10
100g polenta
200g ground almonds
150g soft brown sugar
3 eggs
150ml sunflower oil
2 medium carrots grated
1 small sweet potato peeled boiled and mashed
1/2 tsp cinnamon
juice and zest of an orange
Icing 
200g mascarpone cheese
50g soft butter
1 sweet red chilli (not hot) finely chopped
zest of an orange
3tbsp icing sugar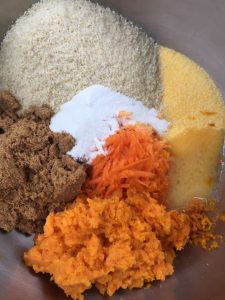 Pre heat the oven to 180C (170C for fan ovens)/gas 4.
Grease and line a 20cm loose bottomed round cake tin with baking parchment.
Place all the dry ingredients in a bowl. Beat the eggs with the oil and stir into the dry ingredients with the orange juice and zest. Mix well and pour into the prepared tin and level the surface.
Bake in the centre of the oven for 45-55 minutes until cooked (test with a toothpick which should come out clean). Remove from the oven and leave to cool slightly before turning out onto a wire wrack to completely cool.
Make the topping by beating the butter and mascarpone till smooth. Sieve in the icing sugar and half the zest of an orange and mix well.
Decorate the cake with the icing and sprinkle over the chilli and remaining orange zest.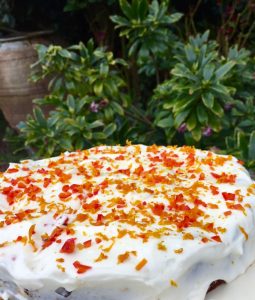 For vegans and those on a dairy free diet you can substitute the icing with my coconut icing recipe. Carrot and walnut cake with coconut icing (dairy free)