Madeleines are one of those delicious little buttery cakes which are often served warm at the end of a meal. They are incredibly easy to make and can flavoured with many different things. In this recipe, just for extra yumminess, I have dipped the Madeleines in chocolate; but if it's your first attempt or you prefer to keep them simple, you can omit the chocolate and just serve them fresh out the oven sprinkled in a little castor sugar. They will still be quite delicious.
The trick when making Madeleines is not to over stir the batter when folding the ingredients; just a few quick folds with a spatular keeps the cakes light and fluffy. They are best eaten fresh so I like to get all the ingredients ready earlier, then pop them in the oven at the last minute, so you can serve them warm.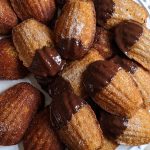 Ingredients
2 eggs (1 medium and 1 large)
25g castor sugar
1 tbsp/15g soft brown sugar
90g plain flour
1tsp baking powder
1tsp vanilla essence
A pinch of salt
90g cooled melted butter
1 tbsp runny honey
25-30g melted butter for greasing
a little castor sugar for sprinkling at the end
40g dark chocolate
Instructions
Preheat the oven to 220C.
Mix the eggs with the sugar salt and honey. Sift the flour and baking powder into the egg and sugar mixture then pour in the slightly cooled melted butter and carefully fold together.
Brush the Madeleine tins with the extra melted butter, then drop a dessert spoonful of the batter into each mould. Place the trays in the middle of the oven and bake for 7-8 minutes until golden brown.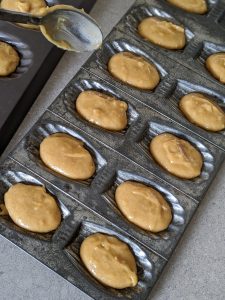 Remove from the oven and tip the tray over to release the Madeleines. Place on a wire rack a lightly sprinkle in castor sugar.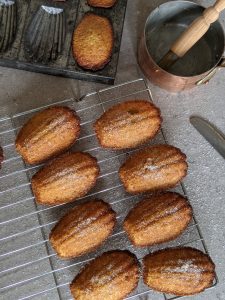 Melt the chocolate in a pan over boiling water then dip the tips of the Madelieines in the chocolate and leave to cool slightly before serving.