One of the first things to shoot up in my vegetable garden at this time year, are the gorgeous rosy pink stems of rhubarb. Beautiful blushing stalks, topped with vibrant green leaves just starting to unfurl; picked now whilst still young, the rhubarb has the most exquisite delicate flavour.
My grandmother used to make a delicious rhubarb crumble served with a huge jug of homemade custard on the side. Just the right amount of sweetness, but still had that refreshing rhubarb flavour. It used to be a real treat when we visited her at Easter time.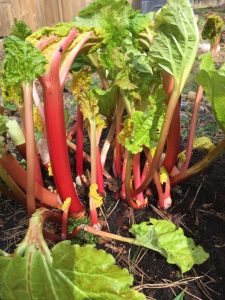 Rhubarb fool is one of the easiest desserts to make; simply stewed rhubarb with plenty of sugar, which is then folded into some lightly whipped cream. It couldn't be simpler. Deliciously indulgent, soft and creamy, I like to serve it with some biscuits crumbled over the top or on the side, to give it some crunchiness.
Delicious Rhubarb Fool with Crunchy Hazelnut topping
Difficulty: easy                                       Serves: 4
6-7 stalks of rhubarb roughly chopped into 2cm pieces
3-4 tbsp castor sugar (you may need a little more)
300ml whipping  or double cream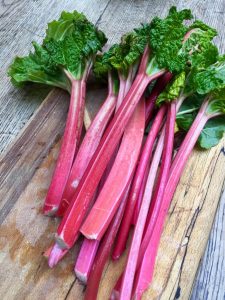 Place the rhubarb in a pan with the sugar and 1tbsp of cold water. Bring to the boil and then turn down to simmer for 3-4 minutes until the rhubarb is just soft. Taste for sweetness adding a little more sugar if necessary. Remove from the heat and leave to cool.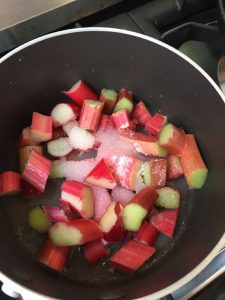 Whip the cream into soft peaks, then careful fold in the cooled rhubarb, reserving 1-2tbsp of the stewed rhubarb for the topping later. Place the fool into 4 glasses and chill in the fridge.
To serve, top each glass with a little of the stewed rhubarb and crumble over a hazelnut biscuit.
Hazelnut biscuits
Difficulty: easy                           Makes 10-12 biscuits
70g chopped toasted hazelnuts
1 small egg white (or half egg white from a large egg)
1.5tbsp icing sugar
1tsp sunflower oil
Pre heat the oven to 150C.
Place a sheet of non stick baking parchment on a tray and lightly grease with the oil. Mix the egg white with the icing sugar and nuts and drop a teaspoon of the mixture onto the greased parchment paper. Repeat with the remaining mixture keeping the biscuits well spaced apart. Using the back of a wet metal spoon, press down gently on each biscuit. Bake in the oven for 8-10 minutes until golden brown. Remove from the oven and leave to cool before removing them from the paper. Store in a glass jar or tupperware.