I really fancied something crisp and crunchy the other day as I felt I had been living off soup since Christmas! Don't get me wrong soup is a wonderful thing, but sometimes you need to get your teeth into something and this is the perfect salad to do it. Quick and easy to prepare, packed full of nutrients, looks amazing… what more can I say it's a real winner!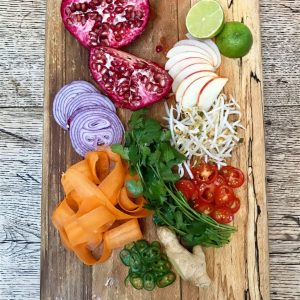 Crisp and Crunchy winter salad
Difficulty: Easy                                  Serves: 2
1 carrot
1/2 pomegranate
1/2 green chilli finely sliced
1/4 red onion finely sliced
1 handful rocket leaves
1 small handful or coriander leaves chopped
1 handful of bean sprouts washed
8-10 cherry tomatoes finely sliced
1 apple cored and thinly sliced (Pink Lady for sweetness or Granny Smith for sharpness)
Dressing
Pomegranate molasses
1-2tsp sesame oil
optional extras; a squeeze of lime and a little grated ginger
Remove the seeds from the pomegranate and set aside. Take a potato peeler and peel the carrot into 'ribbons'.
To assemble the salad. Take a pretty plate and scatter over all the ingredients. Dress the salad with a little drizzle of pomegranate molasses and sesame oil. Tuck in and enjoy!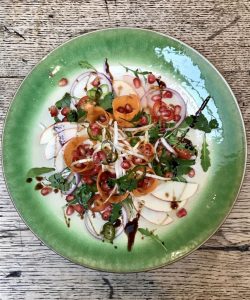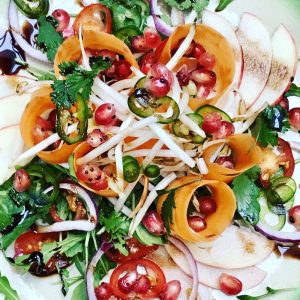 If you fancy a slightly more substantial salad,why not add a little shredded chicken.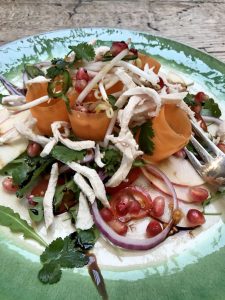 FYI – To see where I go to get some inspiration; Follow my blog with Bloglovin