Being rather a frugal soul I hate to chuck away leftovers. It actually gives me quite a kick to be able to transform them into something completely different. As my husband is not big fan of leftovers, apart from little bits of cheese lurking in the back of the fridge it can be quite a challenge to disguise them,
Weekend barbecue leftovers are great. Remnants of steak, lamb chops or sausages can make a cracking Bolognese, but what do you do with the leftover veggies? With the addition of a few mixed leaves, flowers from the garden and a little feta, those veggies can be transformed into a wonderful tasty and satisfying salad for lunch.
The great thing about this salad is you can tweak it with whatever veggies you have leftover. I find if the vegetables have been grilled or roasted give a lovely caramel sticky flavour.
In the recipe below I have shown you how to cook the vegetables if you haven't got enough leftovers.
Lovely leftover roast veggie salad with sweet potato and feta
Difficulty : Easy                               Serves: 2
1  sweet potato
1 large handful of cherry tomatoes
1 courgette cut in half and sliced
1-2 red onions
a large handful of rocket leaves
a few nasturtium leaves (optional)
olive oil and a little honey and cider vinegar
sea salt and freshly ground black pepper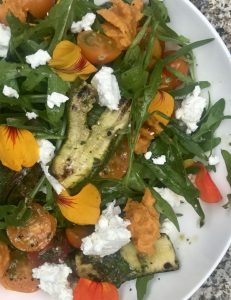 Cut the onions into quarters, drizzle with a little olive oil and season with salt and pepper. Griddle on the BBQ or roast in the oven for 20 minutes till slightly charred and soft. Remove and leave to cool.
Prick the sweet potato and roast at 200C for 45-50 minutes till soft. Remove from the oven and leave to cool.
Heat half a tablespoon of olive oil in a frying pan and add the tomatoes and cook for 3-4 minutes shaking the pan occasionally. Turn of the heat and season with salt and pepper and leave to cool. Alternatively,  cook on a hot BBQ for 5 minutes until they just begin to soften.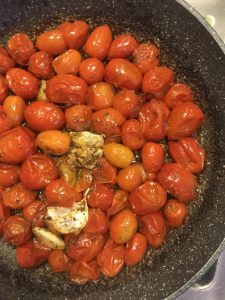 Brush the courgettes with a little olive oil and season with salt and pepper and griddle for 2 minutes on either side till slightly brown and soft.
To make the salad. Place the rocket in and bowl. Remove the flesh from the sweet potato and add to the salad in teaspoon sized pieces. Add the tomatoes and courgettes and dress with a little olive oil and vinegar and season with salt and pepper. Sprinkle over the nasturtium leaves and crumble over the feta and serve.