My summer veggies are sadly coming to an end. As I picked the last of my tomatoes, there was just enough to put in a salad for two! However I can't complain as my little plot has been quite productive this year and I haven't had to buy any tomatoes, salad or 'greens'  since June but the  major result in converting big Kev to Kale (as long as I put loads of other goodies in the salad to distract him from the 'greenness') he really quite likes it!
If you are cooking kale, the tip is to slightly under, rather than over cook it otherwise it can resemble eating shoe leather which is most unpleasant! I find if I massage a little olive oil into it first and quickly stir fry it  adding a knob of butter and seasoning at the end of cooking it really is quite delicious and goes particularly well when served with game of fish.
So with the last of my pickings, I made this salad with a few other remnants from the fridge to bulk it out. I found that the saltiness of the roquefort works really well with the sweetness of the mango and the nuts add bit of texture and crunch.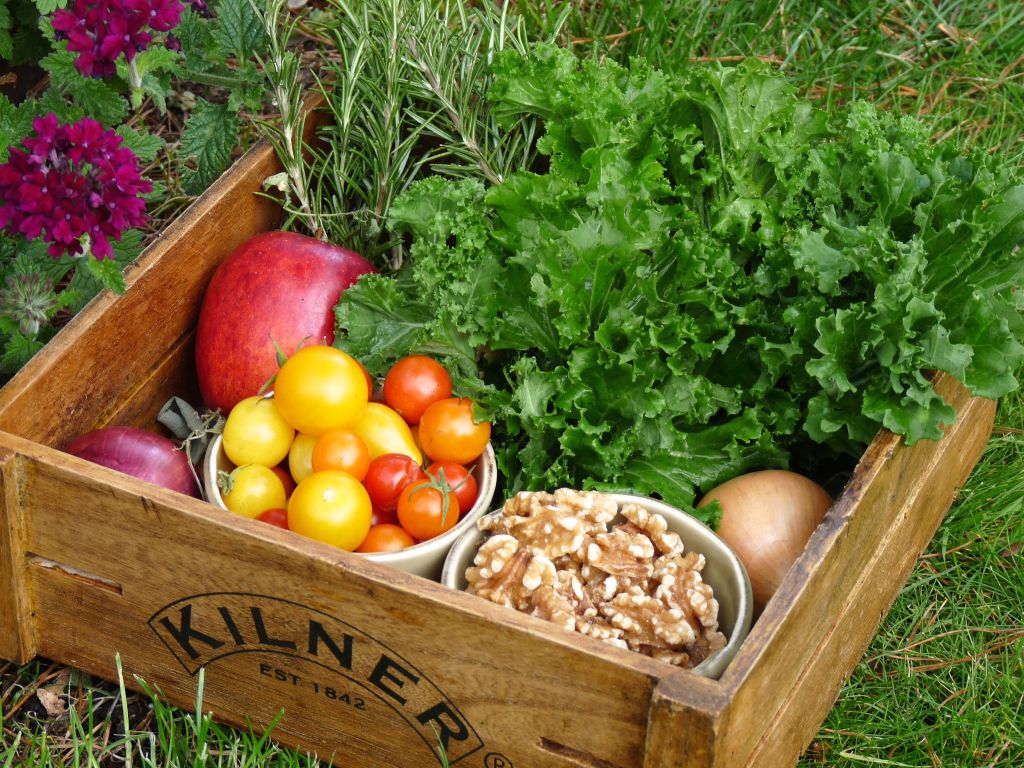 For two people
2-3large handfuls of kale, thoroughly washed and stalks removed
1tbsp extra virgin olive oil
2tsp balsamic vinegar/glaze
1 mango peeled stone removed and diced
1 avocado peeled stone removed and sliced
1 handful cherry tomatoes halved
1handful walnuts
70g roquefort or any soft blue cheese
sea salt and freshly ground black pepper
Tear up the kale and place in a large bowl then add extra virgin olive oil and massage into the kale with the balsamic vinegar (use the glaze if you have got it). Season with plenty of black pepper and a pinch of salt (go easy on the salt as the roquefort is very salty). Sprinkle over the remaining ingredients and serve.