I was doing a party the other day and had a few leftovers from the evening so thought that I would put them to good use and came up with this great substantial soup using the slightly spiced coconut and cauliflower soup which is then topped with diced tandoori chicken and fresh mango relish. It not only packs quite a punch flavour wise but also adds a few different dimensions to the soup as well.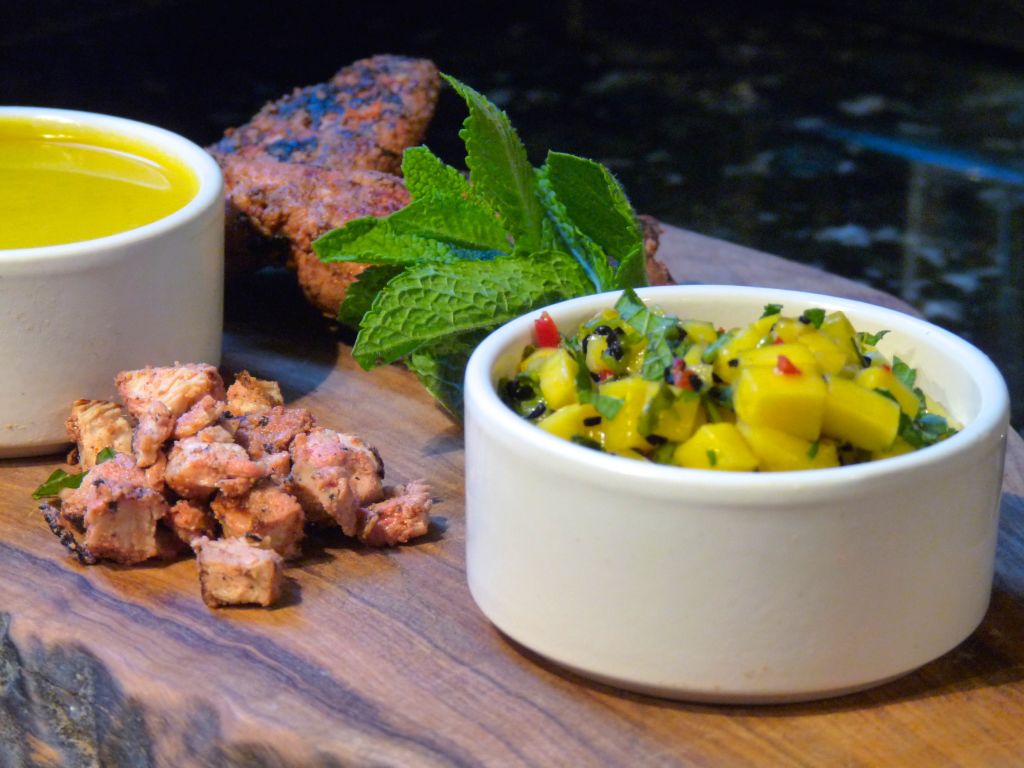 Cauliflower is a much underrated vegetable usually doused in cheese sauce or boiled till it's limp and lifeless! We Brits should look to Indian and Sri Lankan cuisine.  They take the humble cauliflower and turn it into something quite sensational. It maybe fried with a few coriander seeds or cooked with difference spices in curries , made into tempura, or served raw in a relish. The diversity is enormous.
I digress, back to my leftover soup!
To make the coconut and cauliflower soup.                                  Serves 4-6
1 large onion chopped
1 cauliflower cut into florets
2tsp turmeric
1tsp ground cumin
1/2 red chilli chopped
2cm grated ginger
700ml  (approx.)vegetable stock or water
1x400g can coconut milk
sea salt and freshly ground black pepper
1-2tbsp light olive oil
Fry the onion in the oil for about 5 minutes over a medium heat until it starts to soften (don't let it colour). Add the spices  and cook for another minute then add the chilli and ginger and cook for another minute then add the cauliflower and stir well. Pour over the stock or water and bring to the boil and cook for 15 minutes until the cauliflower is soft. Add the coconut milk and then blend in a liquidiser till smooth. Season with salt and pepper. If the soup is too thick add a little more stock or water. Serve in bowls with a little chopped coriander and naan bread.
Since I had a little left over tandoori chicken and fresh mango relish over, I pimped up the soup by finely dicing the chicken and placing a tablespoon on top of the soup and then topping that with a teaspoonful of fresh mango relish. The hot and cold element with the different flavours and textures worked extremely well.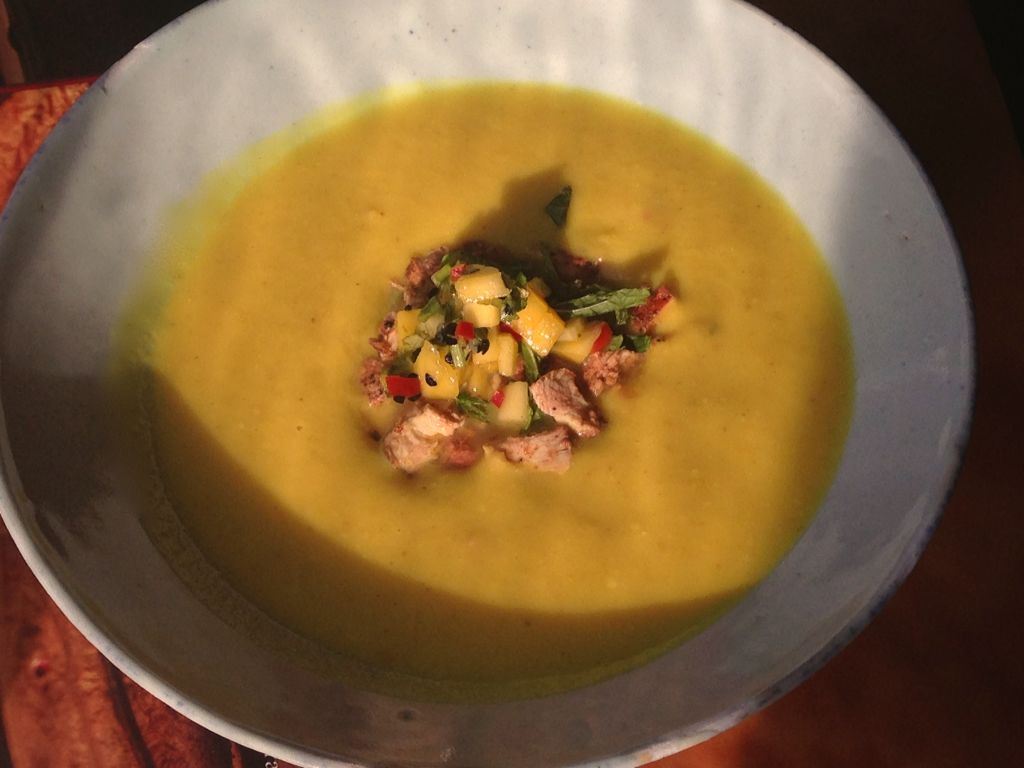 Mango Salsa
1         mango peeled and cut into a small dice
¼       red chilli finely chopped
1tsp   palm or castor sugar
2tsp   black onion seeds
2cm   ginger peeled and grated
1tbsp   chopped coriander leaves
juice of a lime and a splash of fish sauce
Mix all the ingredients together season to taste and chill before serving.