There is something really comforting about a fresh homemade bowl of pasta. Soft pillows of lusciousness melting in your mouth, bursting with flavour, embracing your tastebuds and  warming your heart… Okay I'm in danger of sounding rather pretentious  here, what I'm trying to say is homemade ravioli is super tasty grub!
There is a huge variety of 'fresh' pasta available in the supermarkets now. Some of them are quite tasty, however none of them have the silky delicate texture of homemade pasta rolled so thin that it is almost transparent. The little parcels are then filled a slow cooked beef and red wine ragout or caremelised roast squash with oregano and ricotta; something that is packed with flavour unlike some of the bland offerings at the supermarket.
Making ravioli is very simple, but it is a little time consuming so its great to do when you have a bit of spare time-don't rush it, put the radio on, make a cup of tea and get started. It really is  well worth the effort and the more often you make it the more skilled you become.
For 4 people
For the pasta
300g 00 pasta flour
2 eggs and 4-5 egg yolks
2tsp olive oil and 2tsp salt
Semolina flour for dusting
Place the ingredients in a magi mix (or mixer with a dough hook) and blend till smooth. Remove and place on a lightly floured surface and knead for 5 minutes until the pasta is smooth. cover in cling film and chill in the fridge for at least 30 minutes (or up to 24 hours).
To make the filling
1/2 butternut squash
125g ricotta
125g mascarpone cheese
100g grated parmesan
1 clove garlic crushed
50 g butter
2tbsp chopped fresh oregano leaves
sea salt and freshly ground black pepper
Dice the squash into 2cm pieces  (skin on)and roast with 1/2tsp chilli flakes, a few sprigs of thyme, 1tbsp of olive oil, salt and pepper.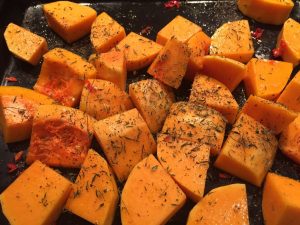 Place in a preheated oven 200oc and roast for 25-30 minutes till soft and just golden brown. Remove from the oven, mash and leave to cool.
Melt the butter and fry the garlic gently for a minute then add to the mashed squash with the cheeses and herbs. Season well with salt and lots of black pepper.
Divide the pasta into four. Sprinkle a little semolina flour onto the work surface Put the pasta machine onto to its widest setting and pass each piece of pasta a couple of times through the pasta machine. Don't worry if the first time the pieces look a little irregular, just roll them a few  the pasta machine a few more times. When you have four neat rectangular pieces, reduce the pasta setting pass the pasta through and repeat until you have reached the thinnest setting. The pasta should be almost translucent. Take a round cutter approx. 8cm in diameter and cut the sheets into rounds. Place a generous teaspoonful of the filling mixture in the centre of a pasta round. Lightly brush the edges with water and then place another pasta circle onto. Gently press the edges together removing all the air from the parcel. Make sure the parcels are well sealed and then place on a large tray sprinkled in semolina flour (to prevent the raviolis from sticking). repeat the process till  all the filling is used.  (there should be about 30 pieces). Chill in the fridge till needed.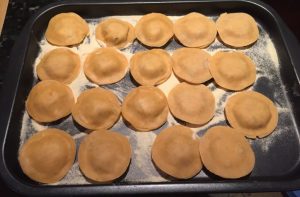 Fill a large pan with water and a large pinch of salt a bring to the boil cook the pasta in two batches for about 2 minutes. Whilst the pasta is cooking, melt 50g butter with 1tbsp chopped sage in a large frying pan. As soon as the pasta is cooked drain and toss in the melted butter and serve immediately with grated parmesan.