There is nothing more comforting on a cold damp day than a really tasty bowl of hot soup and today was definitely one of those foul, bone chilling, sodden days that need a little warmth to act as a ray of sunshine to get me through the day.
Traditionally we used to eat a lot more lentils in the UK; Pease soup was a eaten back in the Middle ages and often given to sailors as it was a nourishing food that was easily dried and stored on board ship. Later on cooks added salted pork to green or yellow lentils to make pea and ham soup.  Mushy peas  in the twentieth century was (and still is in the East End of London) a classic accompaniment to fish and chips. However in the nineteenth century potatoes took over as the most important new food and since then lentils have definitely taken a' back seat' in culinary terms particularly with us omnivores. Its time we redressed the balance! Lentils are nutritionally packed full of health benefits which include; high protein supply, improved digestion, healthy heart, diabetes control, control of cancer, weight loss, I could continue but trust me,  they are GOOD FOR YOU! and also have the benefits of being  tasty, cheap and quick  to prepare, so really its a no brainer…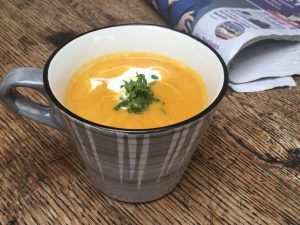 So on this very chilly wet day I made this scrumptious Spicy red lentil tomato and chilli soup  with mint and yogurt, served with carrot crisps…delicious.
For four people
1 onion finely chopped
200g red lentils
8-10 cherry tomatoes or 4 salad tomatoes chopped
2 sticks celery chopped
1-2 red chillies finely chopped (with seeds) and 2 cloves garlic crushed
3 cups water or vegetable stock
a handful of mint leaves chopped and 4 teaspoons of natural yogurt
Fry the onion in a splash of ground nut oil for about 5 minutes until it starts to soften then add the chilli and garlic and fry for another minute. Add the lentils and water/stock. Bring to the boil and simmer for 10 minutes then add the tomatoes and simmer for another 5-10 minutes until the lentils are soft. Remove from the heat, season with salt and pepper and  blitz till smooth adding a little more stock/water if desired. Serve in bowls with a dollop of yogurt and a sprinkle of mint and carrot crisps.
Carrot crisps.
2 carrots
1tbsp olive oil
a pinch of salt and pepper
Preheat the oven to 150oc. Using a vegetable peeler peel the carrots into ribbons and place on a sheet on baking parchment on a baking tray. Rub the oil and salt and pepper into the carrot strips and lay out on the paper so the strips do not touch each other. Bake in the oven for about 10 minutes until golden. Remove from the oven and leave to cool.
You can use parsnips, beetroot or sweet potatoes instead of carrots.