I find that men and women are very different when it comes to their eating habits. Give the blokes a nice piece of meat, preferably cooked over the barbie and they are quite content. With women however, they are a little more discerning. Rather than be faced with a whopping plate of food plonked down in front of them, they much prefer to be offered a selection of tasty morsels to pick at.
So when I had my nieces over the other day  I thought I'd make a bit of an effort and make an assortment of fishy treats.  We kicked off with some salmon sashimi  with cucumber and amaranth. If you are making sashimi always make sure that the fish is of the best quality. I find that a fillet from the middle part of the salmon works the best. Get your fishmonger to skin it and remove the brown fat and then use a very sharp knife to cut it into thin slices and arrange it on a plate. It might not be quite as professionally done a Japanese sushi chef, but it will still taste good and looks pretty impressive too. Serve it up with some soy and wasabi on the side.

Then to follow, we had some delicious seared fresh water prawns which had been  marinated in ginger, garlic and chilli  and served with a cooling mango salsa on the side.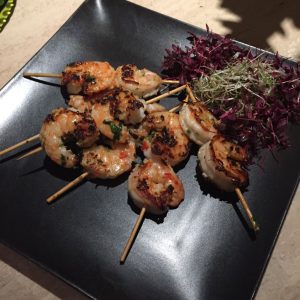 My black salmon with sweet miso is always popular so I had to include that, and it was a perfect accompaniment to the spicy prawns.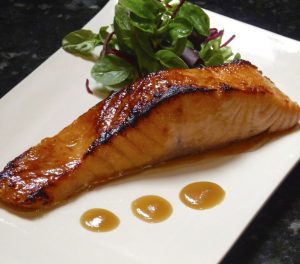 "Black" salmon with sweet miso
All the dishes were quick and simple to make so hopefully my nieces will try them out too.